Israel sends more troops 'deep in Gaza', conducts deadly airstrikes on refugee camp

JERUSALEM/GAZA (Xinhua) -- Israel intensified its ground offensive in the Gaza Strip on Tuesday, sending troops deep into the Palestinian territory and clashing with Hamas militants in fierce battles.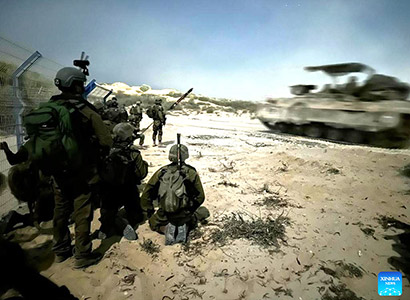 Israeli ground troops conduct operations in the Gaza Strip on Oct 30, 2023. --Photo IDF/Handout via Xinhua
The Israel Defense Forces (IDF) said its soldiers had "fierce battles" with Hamas "deep in the Gaza Strip", adding that Israeli troops attacked hundreds of military targets of Hamas, including anti-tank missile and rocket launching posts below shafts and military compounds inside underground tunnels, and killed "numerous" Hamas militants.
Two Israeli soldiers were killed during a firefight in northern Gaza, the military said.
Hamas, the Islamic militant group that rules Gaza, said its fighters confronted the Israeli troops in several locations, including the Al-Tawam area and Al-Karama neighborhood in northern Gaza.
The Hamas-run Interior Ministry said some Israeli army vehicles advanced toward al-Rasheed Street, apparently trying to cut off Gaza City and the north from the south.
Heavy Israeli bombardment continued in Gaza on Tuesday, hitting Jabalia, a densely populated refugee camp in northern Gaza. The Gaza-based Health Ministry said in a statement that more than 50 people were killed, approximately 150 others injured, and "dozens" of others under the rubble.
The Arab League, Egypt, and Jordan have condemned the attacks on the refugee camp in separate statements.
Israeli fighter jets, acting on intelligence provided by the Shin Bet internal security agency, killed Ibrahim Biari, the commander of Hamas' Central Jabaliya Battalion. The Israeli military said Biari was one of the leaders responsible for the Hamas attacks on Oct 7, which killed at least 1,400 people in Israel.
IDF spokesman Richard Hecht confirmed the attack on Jabalia, adding that the death of civilians was a consequence of a "tragedy of war".
The death toll of Palestinians from Israeli attacks on the Gaza Strip has risen to 8,525, the Hamas-run Health Ministry said on Tuesday. Among the victims, 3,542 were children and 2,187 were women, ministry spokesperson Ashraf al-Qedra said in a press statement.
Meanwhile, rocket fired from Gaza continued on Tuesday, sending millions of Israelis to shelters. The Iron Dome system intercepted most of the projectiles, but several rockets hit towns in southern Israel, injuring four people, one seriously, Israel's Magen David Adom rescue service said.
In the north, Israel struck Hezbollah posts, targetting areas where mortar shells had been fired toward Israeli communities or militants trying to launch rockets.
Also on Tuesday, the Israeli military said its aerial defense systems intercepted a surface-to-surface missile from the Red Sea and a drone near the southern city of Eilat. No injuries or damage were reported.
The Houthis, who control Yemen's capital and much of northern Yemen, said in a statement on Tuesday afternoon that they targeted Eilat and an Israeli air base in the Negev desert with ballistic missiles and several drones.
They said Tuesday's attack was their third operation against Israel since the conflict between Israel and Hamas began, without elaborating on the previous two attacks.

(Latest Update November 2, 2023)