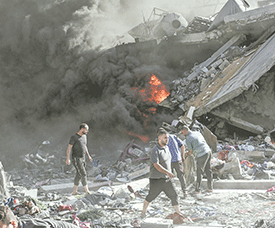 People inspect the rubble of buildings destroyed in Israeli airstrikes in Gaza City on Saturday. --Photo XINHUA
US, Arab states at odds on truce
GAZA/JERUSALEM (Xinhua) -- The United States and Arab countries disagreed on the need for an immediate ceasefire in the Gaza Strip as Israeli military strikes killed civilians at a United Nations shelter and hospitals.
The strike came as Israel said it would press on with its offensive to crush the Hamas militants, despite US appeals for a pause to get aid to desperate civilians.
Large columns of smoke rose as Israel's military said it had encircled Gaza City. Gaza's Health Ministry has said more than 9,700 Palestinians have been killed in the territory, and that number is likely to rise as the assault continues. More than 1,400 Israelis are reported to have been killed since Oct 7.
The soaring death toll in Gaza has sparked growing international anger, with tens of thousands from Washington to Berlin taking to the streets on Saturday to demand an immediate cease-fire.
In the night from Saturday to Sunday airstrikes hit the Maghazi refugee camp in the central area of Gaza, and Palestinian health officials reported many casualties. Maghazi is in the evacuation zone where Israel had urged Palestinians to seek refuge.
US Secretary of State Antony Blinken met Arab foreign ministers in Jordan on Saturday after talks in Israel with Prime Minister Benjamin Netanyahu, who insisted there could be no temporary cease-fire until Hamas releases all hostages it holds.
Jordan's Foreign Minister Ayman Safadi said Arab countries want an immediate cease-fire.
However, Blinken said: "It is our view now that a cease-fire would simply leave Hamas in place, able to regroup and repeat what it did on Oct 7."
A senior Hamas official, Osama Hamdan, said in Beirut that Blinken "should stop the aggression and should not come up with ideas that cannot be implemented".
Palestinian President Mahmud Abbas decried on Sunday Israel's "genocide" in the Gaza Strip, in remarks to Blinken as they met in the West Bank city of Ramallah.
Egyptian officials said they and Qatar were proposing humanitarian pauses for six to 12 hours daily to allow aid in and casualties to be evacuated. They were also asking for Israel to release a number of women and elderly prisoners in exchange for hostages, suggestions Israel seemed unlikely to accept. They spoke on condition of anonymity because they were not authorized to brief the media on the discussions.
Swathes of residential neighborhoods in northern Gaza have been leveled in airstrikes. UN monitors say more than half of northern Gaza's remaining residents, estimated at 300,000, are sheltered in UN-run facilities. But deadly Israeli strikes have also repeatedly hit and damaged those shelters.
'Unacceptable' attacks
On Saturday two strikes hit a UN school sheltering thousands just north of Gaza City, The Associated Press reported. On the same day, two people were killed in a strike at the gate of al-Nasser Hospital in Gaza City. And a strike hit near the entrance to the emergency ward of al-Quds Hospital in Gaza.
The World Health Organisation called attacks on healthcare facilities in Gaza "unacceptable".
Turkiye said it was recalling its ambassador to Israel for consultations, and Turkish media reported that President Recep Tayyip Erdogan said he could no longer speak to Netanyahu in light of the bombardment.
Chad on Saturday made a similar move and recalled its charge d'affaires to Israel for consultations, the country's Foreign Ministry said in a statement.
Thousands of Israelis protested outside Netanyahu's official residence in Jerusalem, urging him to resign and calling for the return of the hostages.

(Latest Update November 7, 2023)