China, Australia embark on right path of improving ties: Xi
BEIJING (Xinhua) -- Chinese President Xi Jinping met with Australian Prime Minister Anthony Albanese in Beijing on Monday, saying China and Australia have embarked on the right path of improving relations.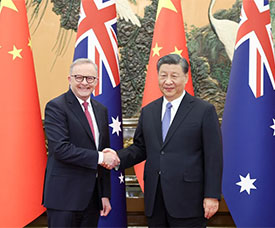 Chinese President Xi Jinping meets with Australian Prime Minister Anthony Albanese at the Great Hall of the People in Beijing, capital of China, November 6, 2023. --Photo Xinhua
"This year marks the 50th anniversary of the visit by Australian Prime Minister Gough Whitlam. Your visit is a journey to retrace history and plan for the future. Thanks to the joint efforts of both sides, China and Australia have resumed exchanges in various fields and embarked on the right path of improving relations," Xi told Albanese.
Xi said China and Australia are both Asia-Pacific countries and important members of the G20, with no historical grievances or fundamental conflicts of interest, but every reason to be partners of mutual trust and mutual achievement, calling on the two sides to keep to the right direction of bilateral relations amid the profound changes in the world.
From the perspective of self-interest, the world is small and crowded, with risks and competition all the time. From the perspective of shared destiny, the world is vast and broad, with opportunities and cooperation everywhere. In the stormy waters of the global crisis, countries are not riding on more than 190 small boats, but instead on a big boat with a common destiny, Xi said.
China and Australia should follow the trend of the times, proceed from the common interests of the two countries, pursue a bilateral relationship that features treating each other on an equal footing, seeking common ground while shelving differences and mutually beneficial cooperation, and push forward the China-Australia comprehensive strategic partnership, Xi said.
This serves the common interests of the two countries and peoples, meets the common expectations of countries in the region, and helps the international community better respond to the risks and challenges brought about by the changes unseen in a century, Xi said.
Xi stressed that at present, the global economy is facing increasingly destabilising, uncertain, and unpredictable factors, and the economies of all countries are facing considerable challenges. In the face of a complex external environment, the Chinese economy has withstood pressure, stabilised its size, and improved its quality.
"China's development still has a sound foundation and many favorable conditions. With its steady development, China will bring valuable certainty to the uncertain world economy. China cannot develop in isolation from the world, and the world needs China for its development," Xi said.

(Latest Update November 8, 2023)