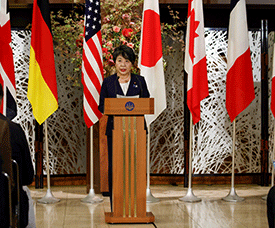 Japan's Foreign Minister Yoko Kamikawa, talks to members of the media during a press conference at the end of the second day of meetings of the G7 Foreign Ministers in Tokyo, Japan, Nov 8, 2023. --Photo Agencies
G7 ministers back up humanitarian pauses in Gaza and two-state solution
(China Daily/ANN) -- Foreign ministers of the Group of Seven called for urgent actions to respond to the humanitarian crisis in the Gaza Strip on Wednesday, saying that the G7 will support humanitarian pauses in fighting between Israel and Hamas militants and a humanitarian corridor to facilitate humanitarian assistance.
During a two-day meeting for the G7 top diplomats in Tokyo from Tuesday to Wednesday, members of the group agreed to seek the immediate release of hostages and stressed that further escalation of the ongoing Israel-Palestine conflict in Gaza or its expansion into larger areas must be prevented, said Yoko Kamikawa, minister for foreign affairs of Japan, at a news conference on Wednesday.
"All parties must allow unimpeded humanitarian support for civilians, including food, water, medical care, fuel, and shelter, and access for humanitarian workers. We support humanitarian pauses and corridors to facilitate urgently needed assistance, civilian movement, and the release of hostages," said the G7 foreign ministers in a statement released after the news conference.
More than 10,000 Palestinians, including over 4,000 children, have been killed in Gaza in the ongoing conflict, a spokesman of the Palestinian health ministry in Gaza said on Monday.
Israeli forces are launching fierce multi-means attacks on the Hamas militant group in "the heart of Gaza City", in moves Israel's Ministry of Defense said were to "exterminate Hamas" after the militant group launched an attack on Israel on Oct 7.
The G7 statement said the members are committed to working closely with partners to prepare sustainable long-term solutions for Gaza and a return to a broader peace process in line with the internationally agreed parameters.
"We underscore that a two-state solution, which envisions Israel and a viable Palestinian state living side by side in peace, security, and mutual recognition, remains the only path to a just, lasting, and secure peace," the statement said.
The two-state solution, written in UN resolutions, has yet to be effectively implemented, a failure that contributes to constant conflicts in the region.
Yet the statement stopped short of meeting international calls for a cease-fire of the Israel-Palestine conflict, according to analysts.

(Latest Update November 10, 2023)