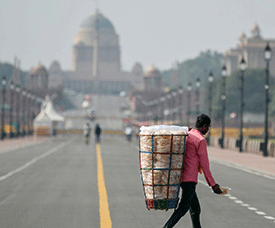 Improved a little more, but Delhi air remains 'poor'

(The Statesman/ANN) -- Delhi'ites woke up to a relatively pleasant weather on Saturday with a little more improvement in the quality of air as a result of yesterday's rain. However, after the drop in air pollution levels, the average Air Quality Index (AQI) level remained at 220, which falls under the 'poor' category.
Compared to the pollution levels in the city with an average Air Quality Index (AQI) 437 on Thursday, the dip in severity is significan, which is almost down by 50 percent.
The overnight rain that took place a day ago and with the increase in wind speed that resulted in dispersion of the stagnant pollutants in the city's air significantly providing the much-awaited relief to the residents ahead of Diwali festivities.
However, the average air quality is still under the 'poor' category in Delhi, which can cause breathing discomfort to most on a prolonged exposure, as per the pollution control agency.
Pollution hotspots like Anand Vihar recorded AQI levels below 300 on Saturday, and now the intensity of air pollution is down by two levels, that is from being 'severe' on Thursday it has now come down to 'poor' category, the CPCB data said.
The weatherman's forecast indicated of a clear sky that was earlier covered with haze and smoke. However, for Sunday, the IMD has forecast shallow fog, with minimum temperature to hover around 14 degrees Celsius.
The best air quality was measured around the Delhi Technical University area, where AQI was 120, falling under moderate category, while Anand Vihar clocked an AQI of 288, reeling under 'poor' mark.
The cities adjoining Delhi likes of Faridabad, Gurugram, Noida, Greater Noida and Ghaziabad also recorded moderate levels of air quality.
The change in weather conditions and rain during the past two days has also contributed to the improvement in the toxic air condition in the north India after rain in parts of Punjab, Haryana and UP.
Meanwhile, Delhi Environment Minister Gopal Rai, commenting on the Delhi's present air situation, said after the rain, winds dispersed pollutants lurching in the atmosphere resulting in a drop in pollution level by 50 percent. But how long the impact of the rain will remain on the city is too early to say.

(Latest Update November 13, 2023)