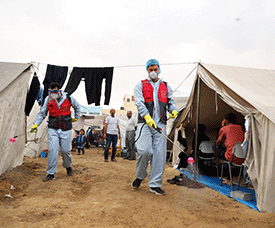 Collapse of healthcare system adds to Gaza's suffering

GAZA (Xinhua) -- Dozens of Palestinians were killed in the ongoing Israeli attacks on Gaza in the past 24 hours, amidst a collapse of the healthcare system in the enclave.
The government media office in Gaza on Sunday announced that the casualties from Israeli attacks climbed to 11,180, including nearly 8,000 children and women, with more than 28,000 injuries.
Intense clashes continued between the Israeli army and Hamas fighters in northern Gaza, while milder clashes were reported in the central strip. The Israeli ground forces maintained an effective separation between the north and south, except for the "corridor" leading to the south.
According to the media office, Israeli airstrikes persist around the Al Shifa Medical Complex in Gaza City, which has been out of service since Saturday, jeopardizing life-supporting devices, including those for infants.
The Palestinian Red Crescent warned that Palestinian infants in Gaza are also suffering from dehydration due to the interruption of baby formula under the current siege.
Gaza's health ministry spokesman Ashraf al-Qedra said at least five casualties died in the past hours as a result of power outages after the hospital ran out of fuel.
Spokesperson of Israel Defence Forces (IDF) Richard Hecht denied targeting or besieging the Al Shifa complex. Israel is still trying to "facilitate and assist" in the evacuation of babies from Al Shifa hospital but Hamas "meddling" is holding it up, he said.
He said that 300 liters of fuel had been delivered by the IDF to the Al Shifa hospital while indicating that Hamas was preventing it from being delivered.
On the release of hostages, two Islamic Resistance Movement (Hamas) officials denied the group had suspended negotiations with Israel regarding the release of hostages and prisoners.
A Hamas source speaking to Xinhua on condition of anonymity said, "I have not heard of the matter," referring to media reports that the faction is suspending negotiations due to the Israeli targeting of Gaza hospitals.
Separately, Zaher Jabarin, a Hamas official overseeing prisoners affairs told Xinhua that the movement is "open to concluding an agreement regarding the hostages in Gaza if appropriate security and field conditions are available for that."
The Rafah crossing on Saturday witnessed the entry of 53 trucks carrying food, medicine, health supplies, bottled water, and blankets, raising the total number of trucks entering Gaza since October 21 to 914, far below the required quantities to meet the needs of over two million people besieged in the enclave, according to the United Nations.
In the past 24 hours, five Israeli soldiers were killed in Gaza, bringing the total number of soldiers killed since the start of ground operations to 43, according to official Israeli sources.

(Latest Update November 14, 2023)