Summit meeting between Xi, Biden sees candid talks

(China Daily/ANN) -- President Xi Jinping and United States President Joe Biden agreed on Wednesday to resume the high-level military-to-military communication between the two countries on the basis of equality and respect, as part of the consensus they reached during their meeting in San Francisco.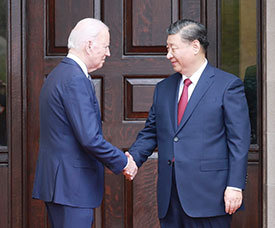 President Xi Jinping meets with US President Joe Biden at Filoli Estate in the US state of California on Wednesday.
--Photo China Daily
During the summit meeting, Xi reiterated that the Taiwan question remains the most important and most sensitive issue in China-US relations. He urged the US to take real actions to honor its commitment of not supporting "Taiwan independence", stop arming Taiwan and support China's peaceful reunification. "China will realise reunification, and this is unstoppable," he told Biden.
The two presidents had a candid and in-depth exchange of views on strategic and overarching issues critical to the direction of China-US relations and on major issues affecting world peace and development when they met at Filoli Estate, a country house approximately 40 km south of San Francisco, according to a statement released by the Foreign Ministry after the summit meeting.
Noting how the China-US relationship is the most important bilateral relationship in the world, Xi said that, for the two countries, turning their back on each other is not an option, and it is unrealistic for one side to remodel the other, and conflict and confrontation has unbearable consequences for both sides.
Xi reiterated that mutual respect, peaceful coexistence and win-win cooperation are the right ways for the two major countries to get along with each other.
He underlined the need for both countries to jointly develop a right perception, manage their disagreements effectively, advance mutually beneficial cooperation, shoulder their responsibilities as major countries and promote people-to-people exchanges.
Xi pointed out that US actions against China regarding export control, investment screening and unilateral sanctions seriously hurt China's legitimate interests, saying stifling China's technological progress is nothing but a move to contain China's high-quality development and deprive the Chinese people of their right to development.

(Latest Update November 17, 2023)