Xi, Biden hold historic summit, charting course for improving bilateral ties

SAN FRANCISCO (Xinhua) -- Chinese President Xi Jinping and US President Joe Biden on Wednesday held a positive, comprehensive and constructive summit, charting the course for improving and developing bilateral ties.
Upon arrival at Filoli Estate, south of San Francisco, Xi was warmly received by Biden. During their four-hour-long meeting, the two heads of state had a candid and in-depth exchange of views on strategic and overarching issues critical to the direction of China-US relations and on major issues affecting world peace and development.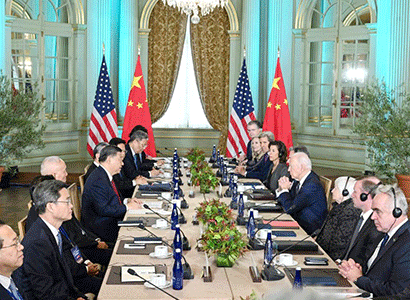 Chinese President Xi Jinping meets with US President Joe Biden at Filoli Estate in the US state of California, November 15, 2023.         --Photo Xinhua
This is an important summit to increase trust and dispel doubts, manage differences and expand cooperation between China and the United States, and it is also an important meeting to inject certainty into and enhance stability of a volatile and changing world, said Chinese Foreign Minister Wang Yi while briefing the media after the meeting.
Wang, also a member of the Political Bureau of the Communist Party of China Central Committee, described the meeting as strategic, historic, and one that provides stewardship.
Candid, in-depth exchange of views
The historic summit came at a critical juncture when the international community presses for a stable China-US relationship.
Face to face, the two heads of state put forward guiding principles on the most prominent issues between the two sides, such as developing a correct understanding of each other, properly managing differences, and strengthening dialogue and cooperation.
They further discussed the right way for both countries to get along with each other, clarified their shared responsibilities as major countries, and mapped out the direction and blueprint for the sound, stable and sustainable development of China-US relations.
Calling the Xi-Biden summit "the most important diplomatic event of the year," Chairman of the Kuhn Foundation Robert Lawrence Kuhn said the two leaders established a floor under bilateral relations, which will be a huge contribution to world peace and prosperity. "Then, both countries can carefully build back up by finding specific areas of agreement and mutual benefit."
The Chinese president pointed out that mutual respect, peaceful coexistence and win-win cooperation are the lessons learned from 50 years of China-US relations and the conflicts between major countries in history, which should be the direction of joint efforts between the two countries.
Noting that the world today is undergoing profound changes unseen in a century, Xi said there are two options for China and the United States -- one is to enhance solidarity and cooperation, join hands to meet global challenges and promote global security and prosperity; and the other is to cling to the zero-sum mentality, provoke rivalry and confrontation, and drive the world toward turmoil and division.
The two choices point to two different directions that will decide the future of humanity and Planet Earth, he said, adding that the China-US relationship, which is the world's most important bilateral relationship, should be perceived and envisioned in this broad context.
Noting that US-China relationship is the most important bilateral relationship in the world, Biden said at the summit that a US-China conflict is not inevitable, adding a stable and developing China serves the interests of the United States and the world, and China's economic growth is beneficial to both the United States and the world.
The Xi-Biden summit "can provide a balance for security and economy in an increasingly uncertain and complex world," said Lucio Blanco Pitlo, a research fellow with the Philippine think tank Asia-Pacific Pathways to Progress Foundation.
President Xi's visit to San Francisco and his meeting with Biden are "a courageous voyage," said Keith Bennett, an international relations consultant based in London. "It is a journey of a peacemaker and of a responsible leader and statesman with a sense of great responsibility to his people, the times, history and humanity as a whole."
Five pillars for bilateral ties
In San Francisco, China and the United States should assume a new vision and build together five pillars for China-US relations, Xi noted, pointing out the two countries should jointly develop a right perception.
China is consistently committed to having a stable, healthy and sustainable relationship with the United States, and China has interests that must be safeguarded, principles that must be upheld, and red lines that must not be crossed, Xi said.
China and the United States should manage disagreements effectively, he noted. Disagreements should not be a chasm that keeps the two countries apart, he stressed, adding that instead, the two sides should look for ways to build bridges to help them walk toward each other.
China and the United States should jointly advance mutually beneficial cooperation, Xi said. The two countries have broad common interests in a wide range of areas, including traditional areas such as the economy, trade and agriculture, as well as emerging areas such as climate change and artificial intelligence (AI), he added.

(Latest Update November 20, 2023)