Academics lament political fallout of January 6

WASHINGTON (China Daily/ANN) -- One year after pro-Donald Trump demonstrators stormed the US Capitol, the incident still resonates in the deep divide in US politics and society, experts said.
"President Biden has still not fully repaired the damage done on that day and in the run-up and immediate aftermath," Peter Feaver, a professor of political science and public policy at Duke University, told China Daily.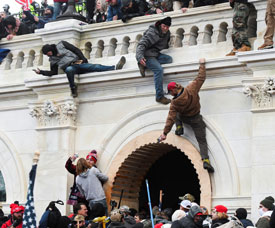 Supporters of US President Donald Trump climb on walls at the US Capitol in Washington, US.
On Jan 6, 2021, the day that Congress convened to certify Joe Biden's victory in the 2020 presidential election, hundreds of then-president Trump's supporters rushed the building, looking to disrupt the proceedings.
Feaver said that the attempt by pro-Trump rioters provided dramatic visual images, but the behind-the-scenes efforts by insiders to hold on to power posed more serious ethical dilemmas to military leaders and national security and law enforcement professionals.
While many in the Republican Party have attempted to minimise the impact of that day, investigations in Congress and the Justice Department are still probing the tumultuous events.
David Schanzer, a professor at Duke University's Sanford School of Public Policy and an expert on counterterrorism strategy, said the events of Jan 6 were "the first time in American history that violence has been used to attempt to block the peaceful transition of power".
He said that over the past 12 months, "even greater damage has been inflicted on our democracy by former president Donald Trump and his supporters by perpetuating the lie - unsupported by any evidence - that the 2020 election was fraudulent".
"The storming of the Capitol on January 6, 2021, was a historical travesty, but what has happened in America since then has been even worse," Schanzer told China Daily.
Schanzer also said he is worried that the two-party system that has provided political stability at least since the end of the Civil War is now on the verge of collapse.
"Even during a global pandemic and while the climate catastrophe is unfolding, this assault on American democracy is the most pressing issue of our times," he said. In a commentary published on the Strategic and International Study (CSIS) website, Alan Reinsch, a senior adviser and the Scholl Chair of CSIS, Reinsch called Jan 6 "a day of infamy".
"I wrote that we are 'tribal, violent, racist, and selfish', and we proved that a year ago. It remains true today."
The assault on the Capitol reinforced the conclusion that American exceptionalism and competence were unreliable, according to Reinsch.

(Latest Update January 7, 2022)