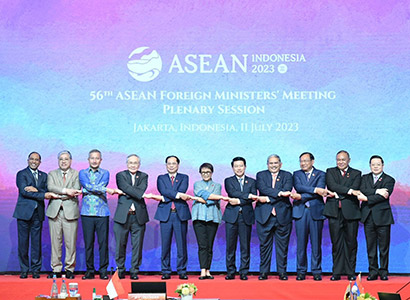 Asean foreign ministers hold hands during the meeting. --Photo Lao Ministry of Foreign Affairs
Asean foreign ministers meet in Jakarta for AMM-56

JAKARTA (Vietnam News/ANN) -- Asean foreign ministers and their counterparts from China, Russia, the United States and other key partners yesterday met in Jakarta for the 56th Asean Foreign Ministers' Meeting.
Leading the Vietnamese delegation, Foreign Minister Bui Thanh Son attended the Conference of Southeast Asia's Nuclear-Weapon-Free Zone, also known as the SEANWFZ Treaty, and a dialogue session with the Asean Intergovernmental Commission on Human Rights (AICHR).
During the SEANWFZ Treaty Committee's session, the Asean Secretary-General reported on the implementation of the SEANWFZ Action Plan for the period 2023-2027. The committee welcomed results in promoting nuclear security, safety, and cooperation across the region.
Asean and its partners agreed to continue seeking solutions for countries with nuclear weapons to join the treaty.
In the face of various fluctuations and challenges, including the risk of nuclear conflict, the ministers reaffirmed the participating countries' political will to uphold the goals of SEANWFZ, emphasising the importance of consultation and dialogue for a Southeast Asia without nuclear weapons.
The ministers approved the Concept Document on Joint Initiatives of Cooperation between Asean and the Agency for the Prohibition of Nuclear Weapons in Latin America and the Caribbean (OPANAL). This initiative contributes to strengthening the SEANWFZ Treaty and supports joint efforts against nuclear proliferation and disarmament.
Minister Son highlighted the significance of SEANWFZ and stressed the need to enhance the treaty's value in the current complex and potentially risky global context. Vietnam reiterated its commitment and determination in implementing the Treaty Action Plan and supported Asean's efforts to encourage nuclear-armed countries to join the SEANWFZ Protocol.
On the same day, the ministers engaged in a dialogue session with the AICHR Committee.
Over the past year, the AICHR Committee has conducted 15 sessions aimed at promoting cooperation on human rights and achieving tangible outcomes in various areas, including the rights of people with disabilities, children's rights, climate change, environmental rights, and more.
Through consultations, policy support for specialised agencies, and field trips, the AICHR has had the opportunity to engage with diverse groups, actively contributing to bringing the Asean Community closer to the people and better meeting their needs.
The Foreign Ministers emphasised that the promotion and protection of human rights are fundamental goals throughout the process of building the Asean Community.
Recognising the profound impact of emerging issues on human rights, both positive and negative, the ministers underscored the need for the AICHR to enhance its operational efficiency, strengthen interdisciplinary consultation and dialogue, and develop comprehensive solutions that effectively safeguard the interests of the people and align with the region's common interests.
Foreign Minister Bui Thanh Son expressed high appreciation for the efforts of the AICHR and the results achieved in implementing the Work Plan 2021-2025. He commended the constructive and goodwill-driven cooperation with partners, adhering to the principles, processes, and procedures of Asean.

(Latest Update July 13, 2023)