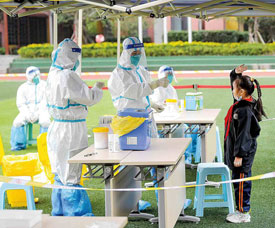 A primary school student salutes medical workers after a COVID-19 sample collection in Chongqing on Wednesday. The city reported four locally transmitted cases on Tuesday.
Booster shots recommended
(China Daily) -- China's leading pulmonologists affirmed the effectiveness of COVID-19 vaccine booster shots and warned that elderly people should pay more attention to disease prevention, as many of them have not yet been vaccinated.
Zhong Nanshan, an academician at the Chinese Academy of Engineering and a leading expert in China's respiratory disease research, told China Daily on Wednesday that the Delta variant is highly contagious.
"Although it has not resulted in a significant increase in the death toll, we should prevent the disease from causing more cases with severe symptoms, especially among the elderly," he said.
"We hope at least 80 percent of people in China will receive a full course of vaccinations by the end of this year. Elderly people, in particular, should get a booster shot," Zhong said.
China has been expanding vaccine inoculations to combat COVID-19 and build an immunity barrier as the novel coronavirus continues to spread worldwide. Booster shots additional jabs offered after a full primary vaccination are being recommended in particular.
Some Chinese cities, including Xi'an in Shaanxi province, Guangzhou in Guangdong province and Beijing, have launched a campaign to administer COVID-19 booster shots for those age 18 and older who were fully vaccinated at least six months ago.
The Chinese mainland recorded 109 new confirmed COVID-19 cases on Tuesday 93 local transmissions and 16 from overseas data from the National Health Commission showed on Wednesday.
Of the new local cases: 35 were reported in Heilongjiang province; 14 in Hebei province; another 14 in Gansu province; nine in Beijing; six in the Inner Mongolia autonomous region; four each in Chongqing and Qinghai province; two each in Jiangxi and Yunnan provinces and the Ningxia Hui autonomous region; and one in Sichuan province, the commission reported.

(Latest Update November 5, 2021)