Child COVID hospitalisations on rise in US
NEW YORK (China Daily/ANN) -- There has been an uptick in the number of children hospitalised with COVID-19 in the US, raising concerns as youngsters return to classrooms Monday following a weeklong holiday break.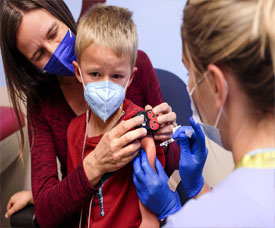 Jill Holm-Denoma (left) comforts her son, Tyler Holm-Denoma, 5, as National Jewish Health registered nurse Emily Cole, right, administers a pediatric COVID-19 vaccine in Denver, Colorado, US.
From Dec 16 to Dec 23, almost 199,000 children in the US tested positive for the coronavirus, a 50 percent increase over the weekly new cases at the beginning of December, according to a report from the American Academy of Pediatrics and the Children's Hospital Association released on Dec 23.
The average number of children hospitalised with COVID-19 increased 52 percent, from a low of 1,270 on Nov 29 to 1,933 on Sunday, according to an NBC News analysis based on the data from the US Department of Health and Human Services.
In the same time, adult COVID-19 hospitalisations increased 29 percent, suggesting that pediatric hospitalizations rose at nearly twice the rate, according to the analysis.
The states that have contributed the most to the rise in pediatric hospitalisations are Florida, Illinois, New Jersey, New York and Ohio, according to the analysis.
Unlike the past 21 months, when children rarely landed in hospital beds and accounted for only a small part of the pandemic death toll, the rate of pediatric hospitalisations in New York City had increased over two weeks from 22 cases to 109, according to the New York state Department of Health.
The current rise in cases is particularly impacting unvaccinated children. Children over 5 have been eligible to receive shots for almost two months. But about 73 percent of those between the ages of 5 and 11 had yet to get a jab at the start of the week, according to state figures.
None of the COVID hospital admissions in the New York City area were of vaccinated children between the ages of 5 and 11, said New York state Health Commissioner Dr Mary Bassett. About 75 percent of older children who were hospitalised had not been vaccinated, she added.
"The risks of COVID-19 for children are real," said Bassett. "We are alerting New Yorkers to this recent striking increase in pediatric COVID-19 admissions so that pediatricians, parents and guardians can take urgent action to protect our youngest New Yorkers."
The highly transmissible Omicron variant is infecting more children across the country than ever before, officials say.
New York Governor Kathy Hochul said Omicron "is affecting children more than the past variants" as she briefly joined New York City Mayor Bill de Blasio's COVID update on Tuesday.
"Before we always said, 'Don't worry so much.' That was a different variant," Hochul said. On schools, "We all have such a public interest. We saw the failed experiment, despite the very best efforts of incredibly hard-working, passionate teachers who did their very best with remote teaching and the parents who were just pulling their hair out at kitchen tables trying to make sure that it worked successfully."
The increase in pediatric hospitalisations also has cast a shadow over plans to reopen schools after winter break.

(Latest Update December 31, 2021)