China, Russia agree to advance ties

(China Daily/ANN) -- President Xi Jinping underlined China's readiness to enable a higher and deeper level of regional cooperation between the Belt and Road Initiative and the Eurasian Economic Union, during talks with Russian President Vladimir Putin on Wednesday.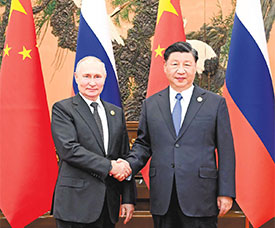 President Xi Jinping and Russian President Vladimir Putin shake hands on Wednesday at the Great Hall of the People in Beijing. The two leaders met after the opening ceremony of the third Belt and Road Forum for International Cooperation.
--Photo Zhang Ling / Xinhua
The two leaders met shortly after the conclusion of the opening ceremony of the third Belt and Road Forum for International Cooperation in Beijing. It marked the 43rd meeting between the two leaders since 2013; their last meeting was held in March, when Xi made his ninth visit to Russia.
Xi started the conversation by calling Putin "my old friend", saying that Putin's attendance at the Belt and Road Forum for the third time in a row demonstrated Russia's support for the initiative.
"Our political mutual trust is deepening, our strategic cooperation is close and effective, and our bilateral trade volume has reached a historic high, moving steadily toward the goal of $200 billion that we jointly set," he said.
Meanwhile, major infrastructure projects, including the China-Russia east-route natural gas pipeline, have been put into operation, delivering tangible benefits for people of the two nations, he said.
Furthermore, the two leaders have also established "a good working relationship and a deep friendship" over the past decade, Xi noted.
China hopes that the China-Mongolia-Russia natural gas pipeline project and cross-border tourism cooperation along the Great Tea Road will make substantive progress in an effort to develop the China-Mongolia-Russia Economic Corridor into a route of high-quality connectivity and development, Xi said.
He emphasised that developing a China-Russia relationship featuring permanent good-neighborliness, comprehensive strategic coordination and win-win cooperation is a long-term commitment rather than a temporary fix.
With both sides set to celebrate the 75th anniversary of bilateral ties next year, Xi emphasised Beijing's readiness to work with Moscow to accurately grasp the overall trend of history and continue substantiating cooperation based on the fundamental interests of both peoples.
China supports the Russian people in pursuing a path of national rejuvenation based on their own choices and safeguarding national sovereignty, security and development interests, the president said.
He also highlighted the need for the two nations to promote high-quality development of bilateral pragmatic cooperation, actively explore cooperation in strategic emerging industries, and take the upcoming China-Russia Cultural Year as an opportunity to organise more cultural exchange activities.
Xi expressed support to Russia in hosting a successful BRICS Summit next year and is willing to continue strengthening communication and cooperation with Russia within multilateral frameworks such as the United Nations, Shanghai Cooperation Organisation and G20, he said.
Addressing Xi as "my dear friend", Putin said the evolution of the international landscape fully vindicates Xi's strategic judgment that the world is facing major changes unseen in a century.
"We believe that your initiative to further promote the historical Silk Road traditions, which you proposed 10 years ago, has now become an internationally recognised public good," the Russian president said.
Russia is willing to closely communicate and cooperate with China within multilateral mechanisms such as BRICS — the grouping of emerging economies that currently comprises Brazil, Russia, India, China and South Africa — and to uphold the international system based on international law and promote the establishment of a more just and equitable global governance system, he said.
Putin reiterated Russia's adherence to the one-China principle, saying that Moscow firmly supports Beijing in safeguarding its national sovereignty and territorial integrity.
Relations between China and Russia are built upon robust economic and trade cooperation, with bilateral trade hitting a record high of $190.27 billion in 2022, up 29.3 percent year-on-year, according to China's Foreign Ministry. China has been Russia's largest trading partner for 13 consecutive years.

(Latest Update October 20, 2023)