China-Laos Railway earns top marks

BEIJING (China Daily) -- A high-speed railway connecting China's southwest with Laos has been given the thumbs-up - even before services get underway this coming week.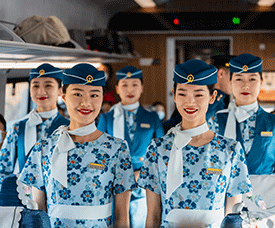 Attendants show off their colorful uniforms in Kunming on Friday for a trial run of the Chinese section of the China-Laos Railway.  –Photo Xinhua
Nearly 200 members of the media enjoyed a trial run on Friday on a section of the track along with people of diverse backgrounds.
Jaruwan Udomsab, a university teacher, said the interior decor of the train is beautiful, with its representations of the folk culture of Yunnan province.
The 1,024-kilometre China-Laos Railway will whisk passengers at speeds of up to 160 kilometres per hour from Kunming, the capital of Yunnan, to Vientiane, the capital of Laos.
"China's railway construction is really world-class. It's great in design and speed," said Jaruwan, a longtime resident of Kunming.
Services on the line are due to start on Thursday and are expected to advance economic ties between China and the members of the Association of Southeast Asian Nations. There are plans for the line to ultimately extend into Thailand and farther south.
Li Bei, a train attendant on board for the trial run, said she and her colleagues have received training in diverse skills, including English and Lao for smoother communication with the passengers - as well as dancing.
"The China-Laos Railway is an international one, linking the country to the world, and it will allow me to learn and see more in the months to come," Li said.
Jaruwan, for one, is keenly awaiting the start of services. "I have lived in Kunming for more than a decade, and I hope to do some foreign trade or cultural exchanges after the international railway line has opened," she said.
"I was too excited to sleep last night because I was invited to try the new train."
Ma Sijie, a civil servant from Ning'er county in the city of Pu'er, Yunnan, said the new railway is good news for her hometown, as it not only links the county to Yunnan's provincial capital but also to the outside world.
She said she plans to take advantage of the train to go abroad for sightseeing in the coming months.


(Latest Update November 29, 2021)