Chinese President calls for stronger Sino-Russian cooperation

(China Daily/ANN) -- President Xi Jinping has called for further strengthening cooperation between China and Russia, saying that developing Sino-Russian relations is a strategic choice made by the two countries based on their fundamental interests.
Xi made the remarks on Monday during a meeting in Beijing with visiting Russian Federation Council Speaker Valentina Matviyenko.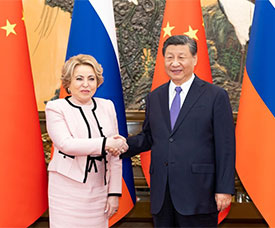 Chinese President Xi Jinping meets with visiting Russian Federation Council Speaker Valentina Matviyenko at the Great Hall of the People in Beijing, capital of China, July 10, 2023. Photo Xinhua
Xi said that China-Russia relations have maintained a healthy and stable development momentum with joint efforts from both sides. Cooperation in various fields has steadily progressed, and public support for the two countries' long-standing friendship has become even stronger, he added.
China is willing to continue working with Russia to develop the comprehensive strategic partnership of coordination for a new era featuring mutual assistance, deep integration, pioneering innovation, and mutually beneficial and win-win cooperation, in order to contribute to the development and rejuvenation of both countries and promote the construction of a prosperous, stable, fair and just world, Xi said.
Noting that legislative cooperation is an important part of Sino-Russian relations, Xi expressed hope that the two sides will work together to implement the consensus reached between him and Russian President Vladimir Putin, and promote the sustained and healthy development of cooperation in various fields.
Both countries should strengthen exchanges of legislative and governance experiences, and elevate legislative cooperation to a new level, he said.
The president also underlined the need for the two countries to enhance communication and coordination within multilateral mechanisms, such as the Shanghai Cooperation Organisation and BRICS, guide the reform of global governance in the right direction, and jointly safeguard the common interests of emerging markets and developing countries.
Matviyenko said the Russia-China comprehensive strategic partnership of coordination is in line with the interests and aspirations of both countries and has reached the highest level in history.
The Russian legislature widely supports deepening Russian-Chinese cooperation, and is willing to further strengthen exchanges and dialogue with the National People's Congress, China's top legislature, providing legal safeguards for the implementation of the consensus reached by the two heads of state, she said.
Matviyenko is leading a Russian delegation on a visit to China, which runs from Sunday through Wednesday. The visit is at the invitation of Zhao Leji, chairman of the Standing Committee of the NPC.
Zhao and Matviyenko held talks in Beijing on Monday, and jointly chaired the 8th meeting of the China-Russia committee for parliamentary cooperation, vowing to strengthen legislative cooperation between the two countries.

(Latest Update July 12, 2023)