CoronaVac rollout begins; AstraZeneca delayed
MANILA (The Philippine Daily Inquirer/ANN) -- The Philippines begins its COVID-19 vaccination drive on Monday with the first 600,000 doses of the donated Chinese vaccine CoronaVac in major government hospitals in Metro Manila.
The country has been expecting a bigger launch, but the delivery of 525,600 doses of the AstraZeneca vaccine from the global vaccine supply pool COVAX on Monday will be delayed by a week due to a supply problem, according to Health Secretary Francisco Duque III.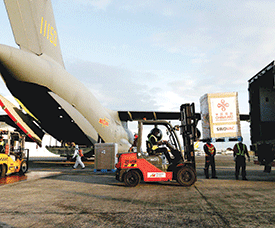 Finally the Philippines' vaccination drive starts on Monday with the delivery of the initial 600,000 doses of the China-made CoronaVac vaccine, here being unloaded from a Chinese military plane and loaded onto a refrigerated van at Villamor Air Base in Pasay City on Sunday afternoon.   --Photo Richard A. Reyes
President Duterte attended a ceremony to mark the arrival of the initial 600,000 doses of Sinovac Biotech's CoronaVac at Villamor Air Base in Pasay City on Sunday afternoon. A Chinese military aircraft delivered the vaccines.
"With this very important shipment, I am confident that more batches of vaccines will be available with great dispatch until every Filipino will be given the chance to be vaccinated at the earliest possible opportunity," Mr Duterte said.
The President said the Chinese donation underscored the friendly relations between Manila and Beijing.
"I convey my sincere gratitude to the Chinese people and the government of China for this gesture of friendship and solidarity the hallmark of Philippines-China partnership," Mr. Duterte said.
Chinese Ambassador to the Philippines Huang Xilian said "more Chinese vaccines procured by the Philippine government will surely come soon as expected."
He was referring to 25 million doses of CoronaVac due to be delivered to the Philippines in batches this year.
"It is a fine tradition between China and the Philippines to help each other in trying times. Our two governments and peoples have helped each other and joined hands to fight the pandemic since the outbreak of the virus, forging a closer China-Philippines partnership," Huang said.
With the arrival of the Sinovac vaccine, the Philippines' vaccine rollout formally starts, said Carlito Galvez Jr., head of the National Task Force Against COVID-19 and chief implementer of the vaccination programme.
President Duterte ordered the first round of vaccinations to begin in the first week of March, after the delivery in February of the 117,000 doses of the Pfizer vaccine from COVAX was delayed.
Sen. Christopher "Bong" Go, the Senate health committee chair who is a former aide to the President, said vaccines for the Visayas and Mindanao would also arrive this month.
Duque announced the delay in the delivery of the AstraZeneca vaccines in a television interview later Sunday.
"We received communication earlier today that the delivery would be delayed by about a week," Duque said. He quoted the World Health Organisation (WHO) as saying the delay was due to a supply problem.
(Latest Update March 1, 2021)