Cost of air pollution: Takes 7.7 years off Dhaka residents' lives

BANGLADESH (The Daily Star/ANN) -- Dhaka residents could live 7.7 years longer if air pollution subsides, found a recent global study.
Air pollution shortens the average Bangladeshi's life expectancy by 5.4 years, said the latest edition of the Energy Policy Institute at Chicago's Air Quality Life Index (AQLI), which has been released today.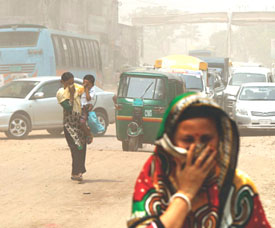 Pedestrians cover their noses as dust shrouds a dilapidated part of Rampura-Banasree Road. Residents have been subjected to the heavily polluted air for nearly two years. --Photo Star file
At present, the average life expectancy of Bangladeshis is 72.6 years, according to the Bangladesh Bureau of Statistics. In 1998, life expectancy was cut short by 2.8 years due to air pollution, while it stood at 5.4 years in 2019.
In each of the 64 districts, the levels of particulate matter - which are solid and liquid particles like soot, smoke, dust that remain suspended in the air - were found to be at least three times higher than the World Health Organisation guideline.
Most of the particulate matter, also known as PM 2.5, comes from fossil fuels such as from vehicle engines and power plants, said the study by the University of Chicago institute.
Microscopic particles that are just 3 percent the diameter of a human hair are deadly when they enter the respiratory system along with the oxygen.
The average annual PM 2.5 concentrations in Bangladesh was 77.1 microgrammes per cubic metre (mcg/m3) of air, which is seven times the WHO exposure recommendation, according to the World Air Quality Report 2020 that was published in March.
In 2020, Bangladesh's air quality was the worst in the world, while its capital Dhaka was the second most air polluted city, it said.
The most polluted areas of the country are the divisions of Khulna and Rajshahi, where the average resident is exposed to pollution that is more than seven times the WHO guideline reducing life expectancy by more than six years, according to AQLI.
The PM 2.5 concentration is high in Narayanganj, Jessore, Rajshahi, Khulna, Pabna, Dhaka and Gazipur, found the study.
Air pollution causes lots of diseases like ischemic heart disease, stroke, chronic obstructive pulmonary disease, lung cancer and acute lower respiratory infections in children, said Lelin Chowdhury, a public health expert.
"That's why it is related to life expectancy. Our life expectancy increased but how much quality improved, it should be a research topic. In a lifetime, how many days one has to be in hospitals? That should count, too."
Fossil fuel is one of the most important elements of air pollution, said Chowdhury, also the joint secretary of Poribesh Bachao Andolon, a voluntary social organisation promoting Bangladesh's environmental protection.

(Latest Update September 2, 2021)