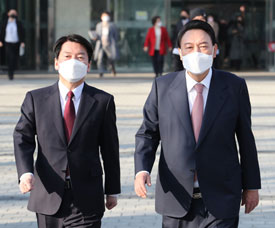 A healthcare worker hands over doses of the Pfizer-BioNTech COVID-19 vaccine to a doctor at Messe Wien Congress Centre, which has been set up as coronavirus disease vaccination centre, in Vienna, Austria, February 7, 2021.                                                        --Photo agencies
EU divided over vaccine alliance

EUROPEAN (China Daily/ANN) -- Concern over the European Union's slow-moving COVID-19 vaccination strategy has sparked division on how to tackle the pandemic.
It has emerged that a planned "vaccine alliance" between Austria, Denmark and Israel threatens to undermine the European Commission's coordinated purchasing effort, with plans said to already be at an "advanced stage" between the three nations.
A report in the Financial Times said Austria's Chancellor Sebastian Kurz and Denmark's Prime Minister Mette Frederiksen will travel this week to Israel, to meet Prime Minister Benjamin Netanyahu for discussions on a new "joint approach".
Netanyahu said in public remarks on Monday that the leaders will also talk about the idea of "an international corporation for manufacturing vaccines", Reuters reported.
Kurz told German newspaper Bild that the European Medicines Agency, known as the EMA, is "too slow" to approve vaccines. He said: "We should no longer be dependent only on the EU for the production of second-generation vaccines."
The FT said "at the core of discussions" were plans "to construct in-country production facilities for mRNA vaccines", with producers Pfizer and Moderna.
It comes as EU member state Slovakia announced it has acquired 2 million doses of the Russian produced Sputnik V vaccine, which has not yet been approved by the European Medicines Agency, also known as EMA.
(Latest Update March 4, 2021)