Funding on decline, challenges up

BANGLADESH (The Daily Star/ANN) -- As international funding for the Rohingyas declines, Bangladesh faces increasing challenges to manage the displaced people amid little prospect of repatriation anytime soon.
The fund for humanitarian assistance that ranged between 72 and 75 percent of the total requirement in the first three years since 2017 came down to 65 percent in 2020. Until July this year, US$366 million has been committed or disbursed, which is only 34 percent of the required amount of around US$1 billion for this year.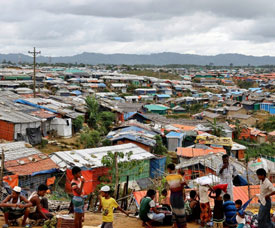 File photo of a refugee camp in Cox's Bazar.                                         --Photo Anisur Rahman
Now, along with the global pandemic comes another humanitarian crisis following the takeover of Afghanistan by the Taliban, which has already displaced millions of Afghans both in and outside the country.
"Funding for the Rohingyas will definitely drop because of Afghanistan and other crises in the coming days," said Md Shahidul Haque, former foreign secretary and currently IOM Bangladesh's senior adviser on migration and humanitarian policy.
Concerned over funding shortage, the Bangladesh government has been calling for the UN to start their operations in Bhashanchar, where the government sheltered 18,000 Rohingyas since last December as part of its plan to relocate one lakh of them from the camps in Cox's Bazar.
Mostly the local NGOs are now providing humanitarian assistance to the Rohingyas in Bhashanchar with their own funds. But that is not going to last long if major international donors do not fund them, NGO officials said.
"We have almost finalised the protection policy of Rohingyas in Bhashanchar and the UN is likely to start operations there by September," Disaster Management and Relief Secretary Md Mohsin said.
Humanitarian aid officials operating in Cox's Bazar said food rationing, housing, roads, water and sanitation facilities in Rohingya camps in Teknaf and Ukhia, home to nearly one million refugees, are now much better than before when they had fled the brutal military crackdown in Myanmar's Rakhine state in 2017.
However, newer challenges have emerged. Those include crimes like extortion by Rohingya gangs in the camps, conflicts over power between different Rohingya groups, lack of education and jobs.
Rohingyas coming out of the camps and taking risky sea journeys for Malaysia or Indonesia have also increased in recent times.
In the last two years, more than 1,300 Rohingyas were rescued in 11 districts while being trafficked, said police in Cox's Bazar.
According to the UNHCR, at least 2,413 Rohingyas took sea journeys to reach the two Southeast Asian countries last year. Of them, 218 died or were missing, making it the deadliest year on record for refugee journeys in the Bay of Bengal and Andaman Sea since 2015.

(Latest Update August 26, 2021)