HIV fight on hold for over 2 years
SOUL (The Korea Herald/ANN) -- Concerns are growing as HIV testing has been suspended at most local health centers across Seoul to prioritise the handling of the COVID-19 pandemic.
All 25 local health centres in the capital used to provide free and anonymous sexually transmitted infection and HIV tests until 2019. Nearly two years into the pandemic, however, HIV and STI testing capacity has been drastically reduced with many locations having stopped testing all together.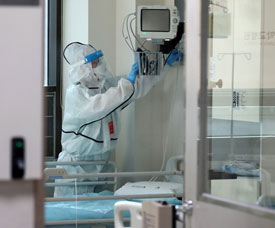 A health worker checks medical bed equipment at a hospital in Daejeon.
"We understand that seven community health centres in the city still provide HIV tests," said an official at the Seoul Metropolitan Government. The locations include the districts of Jongno, Gangbuk, Dobong, Eunpyeong, Gwanak, Gangnam and Jungnang, though only rapid tests appear to be currently available. Residents from other districts regardless of their nationality can receive free and anonymous testing. Hospitals also offer HIV and STI tests but they are not free.
"Due to a manpower shortage, the staff who used to handle HIV and STI testing are now helping with the COVID-19 response instead. Some centers are still offering tests but with many working from home, it is difficult to operate at full capacity," the official added.
The number of HIV tests taken in 2020 stood at 178,653, a near 60 percent drop compared to 2019, according to data from the Korea Disease Control and Prevention Agency. The figure for last year, which has yet to be released, is expected to be even lower, the official said.
The fall in testing was more noticeable in Seoul, which saw an 82.4 percent decline in testing, the KDCA said in a report last year, citing the COVID-19 response as a reason. The government's current HIV policy is to find HIV positive people, get them to start medication and encourage people to get tested, similar to its approach to COVID.

(Latest Update January 21, 2022)