Health ministry warns of risks for underweight women

JAPAN (The Japan Times/ANN) -- According to a Health, Labour and Welfare Ministry survey, about one in five Japanese women in their 20s is underweight, a high percentage compared with other advanced nations.
The health ministry has launched measures to counter a problem it has positioned as an issue of national significance as underweight women are at higher risk of low bone mass and are more likely to give birth to infants with low birth weights.
"Everyone in my class is on a diet," said a 14-year-old student of a junior high school in Tokyo. "I often skip dinner. I sometimes eat only one meal a day," she said while holding a tapioca drink on Takeshita-dori street in Tokyo's Harajuku area in early August.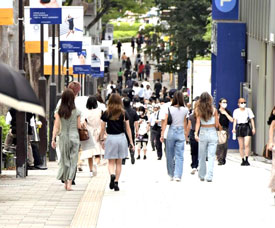 People are in a fashionable shopping district in Shibuya Ward, Tokyo. 
--Photo the Yomiuri Shimbun
To maintain her slender figure, the student, who is 157 centimetres tall and weighs 40 kilogrammms, said she restricts the amount of food she eats rather than balancing her diet.
In a survey conducted this spring by the National Center for Child Health and Development on about 300 fourth-grade elementary to high school students, 40 percent of respondents said they were quite fat or overweight. About half of the respondents, which included boys and girls, said they were on a diet to lose weight.
According to the health ministry's 2019 National Health and Nutrition Survey, 21 percent of women in their 20s were classified as underweight, with a body mass index (BMI) of less than 18.5. The percentage has been on an upward trend since 1981 when 13 percent of women were classified as underweight.
BMI is used internationally as an indicator of obesity, regardless of gender. It is calculated by dividing body weight in kilograms by the square of a person's height in metres. An adult with a BMI of less than 18.5 is considered to be underweight, 18.5 to less than 25, in the normal range, and 25 or more, overweight or obese.
About 10 percent of all adult women in Japan are underweight, a figure three to four times higher than those of other countries in the Organisation for Economic Cooperation and Development.
The health ministry issued a report on the nation's dietary habits in June, in which it warned that young underweight women are at risk of long-term health issues.
Malnutrition can lead to bone loss, anemia, and menstrual irregularities, and insufficient protein intake tends to result in low muscle mass.
Bone mass peaks when people are in their 20s, and it starts to decrease partly because calcium absorption declines with age.

(Latest Update September 9, 2021)