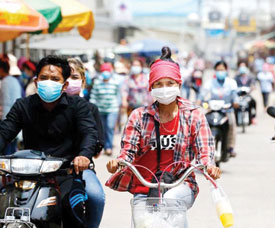 Factory workers clock out in Chaom Chao III commune's Prey Tea village in western Phnom Penh's Por Sen Chey district on March 18.                            --Photo Heng Chivoan
Informal economy may lose over 6M jobs by Covid's end
CAMBODIA (The Phnom Penh Post/ANN) -- Minister of Planning Chhay Than said more than six million workers in the informal economy have either lost or are expected to lose their jobs due to Covid-19, despite the government's efforts to counter the pandemic.
Than made the remarks during the celebration of World Population Day on July 20. The virtual event was attended by senior officials from the ministries of Women Affairs; Health; Education, Youth and Sport; as well as representatives from the UN Population Fund in Cambodia and other foreign diplomats.
He said the pandemic had affected the world, with many countries facing huge losses to their economies and public health. The disease had infected and killed millions of people. The minister said the pandemic has hit Cambodia's tourism, export manufacturing and construction sectors the hardest, which cumulatively contribute more than 70 percent to the Kingdom's economic growth and employ nearly 40 percent of the workforce.
"Because of the transmission of Covid-19, nearly 3,000 businesses in the tourism sector have suspended activities, leading to a loss of 45,000 jobs. "Workers in the informal sector, estimated to be 6.1 million people, have lost or will lose their jobs," he said.
The community outbreak has claimed lives and placed a lot of pressure on Cambodia's public health system, socio-economy, people's daily livelihoods. The situation is dragging on and the extent of transmissions is huge with nearly 70,000 Cambodians infected and more than 1,000 deaths, the minister said.
Nevertheless, Than said the government's response to the situation was good including the introduction of the social protection fund to alleviate people's burdens and support for the livelihoods of the poor and vulnerable, especially women and girls.
He said the government had provided support to people affected by the pandemic through a cash handout programme for pregnant workers, and poor and vulnerable households.
The government has also supported workers whose factories and enterprises have been suspended. This support also applied to workers in the tourism sector. Sok Chhun Oeung, director of the Cambodia Informal Economic Workers Association (CIEWA), said a large number of informal workers had lost their jobs and tried to look for other jobs in order to make an income.

(Latest Update July 22, 2021)