Israel bolsters forces on border with Gaza as regional powers scramble to mediate
GAZA/JERUSALEM (Xinhua) -- Israel intensified on Tuesday its airstrikes on the Gaza Strip and bolstered its forces along the border, the fourth day of one of the most intense clashes between Israel and Hamas militants in decades.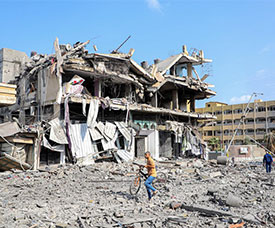 People walk past destroyed buildings following an Israeli airstrike in Gaza City, on October 10, 2023.         --Photo Xinhua
In retaliation, Hamas has launched barrages of rockets targeting central Israel, including Tel Aviv. Many recreational sites and shops in Tel Aviv have remained closed since the conflict began. As night fell, rockets were fired at Ashkelon, prompting residents to seek shelter.
The Israel Defense Forces (IDF) spokesperson, Daniel Hagari, reported that the IDF has regained control over most of the southern region that was infiltrated by Hamas militants on Saturday during a surprise attack.
However, clashes are still ongoing. Armed Palestinian militants continue infiltrating Israel. The IDF confirmed that two Palestinian militants, who apparently crossed into Israel during Saturday's attack and were in hiding, were killed in a firefight. Four armed militants also infiltrated Israel's southern shore at Zikim and were killed in an exchange of fire.
Israel's Education Ministry has announced that schools across the country, which have been shut down since the beginning of the conflict, will remain closed on Wednesday.
The conflict has taken a heavy toll on both sides. The Palestinian Health Ministry reported on Tuesday that the death toll from Israeli attacks on Gaza has risen to 900, with 4,500 injuries. Meanwhile, at least 1,008 individuals have been killed in Israel since Saturday, as reported by Israel's state-owned Kan TV news.
Israel's Defense Minister Yoav Gallant has vowed to exact "mighty revenge" and approved a call-up of an additional 60,000 reservists, bringing the total number mobilised to a record 360,000, setting the stage for a possible ground offensive.
Israel's military also targeted Hamas officials, killing Hamas' Economy Minister Jawad Abu Shamala, and another senior official, Zakaria Abu Muammar.
In Gaza, Israel continues its massive airstrikes and has halted the supply of water, electricity, and food. The United Nations reports that at least 200,000 Palestinians have been displaced, with more than 120,000 taking shelter in U.N. schools under challenging conditions with limited access to essential resources.
The Israel-Lebanon border has also seen an escalation, with the Israeli military responding to rocket barrages from Lebanon with retaliatory artillery fire. Schools near the volatile border in southern Lebanon remained closed.
Earlier in the day, Israeli airstrikes hit the Rafah border crossing between Gaza and Egypt, disrupting the delivery of humanitarian aid. Negotiations between the United Nations and Egyptian officials are ongoing to ensure aid can flow through the crossing, with Egypt seeking assurances from Israel and the United States.
As a crucial negotiator between Israel and Palestine, Egypt has been ramping up efforts to de-escalate the conflict. Egyptian President Abdel-Fattah al-Sisi warned Tuesday that the ongoing military escalation is "very dangerous" and could have repercussions for regional security and stability.
He emphasised Egypt's commitment to a two-state solution and urged negotiations for a just peace and an independent Palestinian state.

(Latest Update October 12, 2023)