Israel forms unity gov't as battles with Hamas escalate
GAZA/JERUSALEM/CAIRO (Xinhua) -- The following are the latest developments related to the Israeli-Palestinian conflict:
The death toll of Palestinians from the ongoing Israeli airstrikes has reached 1,100, the Health Ministry in Gaza said in a statement Wednesday.
The airstrikes were carried out in response to a large-scale surprise attack launched by the Islamic Resistance Movement (Hamas) on Saturday.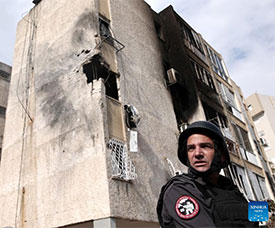 Photo taken on October 11, 2023 shows a building damaged in rocket attacks from Gaza, in Ashkelon, Israel.
"About 5,339 Palestinians, including 1,217 children and 744 women, were wounded by the (Israeli) army," the statement added.
Eleven employees of the United Nations Relief and Works Agency for Palestine Refugees (UNRWA) have been killed in the Gaza Strip since Saturday, the agency said in a statement on Wednesday.
"They included five teachers at UNRWA schools, one gynecologist, one engineer, one psychological counselor and three support staff," said the statement.
"Some were killed in their homes with their families. UNRWA mourns this loss and is grieving with our colleagues and the families," it added.
Israel formed a unity government and a war cabinet on Wednesday to oversee the deadly conflict triggered by Hamas' weekend surprise attack as it continued to launch airstrikes on the Palestinian enclave of Gaza Strip.
The new war cabinet brings former defense minister and leader of the centrist-right National Unity party Benny Gantz to Prime Minister Benjamin Netanyahu's nationalist-religious coalition government. Members of the wartime cabinet also include Defense Minister Yoav Gallant.
The formation of the war cabinet comes amid increasing public criticism in Israel against Netanyahu and his government, who were blamed for failing to adequately preparing and foreseeing Saturday's attack, as well as amid rising speculation that Israel would launch a ground offensive in Gaza soon.
The Al-Qassam Brigades, the armed wing of the Palestinian Islamic Resistance Movement (Hamas), appeared to have released an Israeli female prisoner and her two children, according to Al Jazeera TV channel on Wednesday.
The TV channel published a short video showing Al-Qassam Brigades fighters accompanying an Israeli female prisoner and two children, who were captured during the group's surprise attack on Israel on Saturday, back to Israel.
Then, the Al-Qassam Brigades fighters withdrew to the Gaza Strip.
There have been no comments yet from Israel on the video footage, while Israel's Channel 12 news also confirmed that the footage was apparently filmed on Saturday, hours after Hamas launched an attack on Israel.
Regional mediation talks are being held to provide a safe passage for the evacuation of foreigners from the Gaza Strip and bringing urgent aid into the Palestinian enclave via Egypt, a Palestinian source told Xinhua on Wednesday.
The source, who requests anonymity, said the mediation talks were led by Egypt, Qatar and Türkiye, and has had support from Saudi Arabia and the United States.

(Latest Update October 13, 2023)