Israeli army says preparing strike on Gaza from "air, sea and land"
JERUSALEM (Xinhua) -- Israeli Prime Minister Benjamin Netanyahu on Saturday toured southern Israel, where the surprise Hamas attack took place a week ago, encouraging troops to get "prepared for what is coming," according to his office.
The spokesman for the Israeli Defense Forces (IDF) Daniel Hagari also said the forces are preparing to expand the attack, suggesting a ground operation on the Gaza Strip.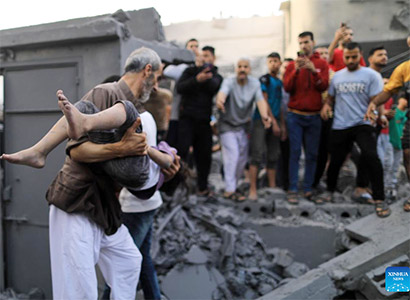 People help a survivor among rubble of a building after an Israeli air strike in the southern Gaza Strip city of Khan Younis, October 14, 2023.
A statement released by the military said "The IDF forces are currently preparing to implement a wide range of operational offensive plans, which can include combined and coordinated attack from the air, sea and land."
Rocket fire from the Gaza Strip into Israel continued on Saturday, with tens of rockets being intercepted by Israeli air-defense systems, while the IDF continued to pound Gaza with airstrikes and issued a second warning to Gaza residents, urging them to evacuate to the southern part of the coastal enclave. The army allowed safe passage on two major routes in the Gaza Strip for several hours and resumed massive airstrikes afterward.
Israel's mass evacuation order was met with rejection from several countries, including Egypt, Saudi Arabia, and Türkiye, as well as regional and international organisations, including the Arab League, United Nations and the WHO.
According to the IDF, its aircraft targeted and killed Ali Qadi, a commander of the Hamas commando force believed to be behind the surprise attack on southern Israel exactly a week ago.
Israeli National Security Adviser Tzachi Hanegbi admitted in a press conference that Israel made a mistake in not foreseeing the attack. He also warned that Hamas will "no longer be the sovereign, or in control" of the Gaza Strip after Israel's military operation.
About 150 to 200 hostages are believed to be held by Hamas in the Gaza Strip, Hanegbi said, confirming no active negotiation efforts are underway with Hamas.
In northern Israel, the IDF and Lebanese militant group Hezbollah have been exchanging missiles and artillery shellings since Sunday, raising fears of a second front in the war.
The Israel-Hamas conflict, as it entered the eighth day, has pushed the Palestinian death toll to 2,215, with 8,714 injuries, according to the Palestinian Health Ministry.
Meanwhile, the Israeli fatalities since Oct. 7 had reached 1,300, while nearly 3,400 were injured, Israeli media reported on Friday, citing official sources.


(Latest Update October 16, 2023)