Japan to extend virus emergency to Sept. 12, add 7 more areas
TOKYO (Kyodo) -- Japan is set to decide on Tuesday to extend a COVID-19 state of emergency in Tokyo and five other prefectures through September 12 and add seven more prefectures as the resurgence of infections increasingly puts a strain on hospital beds.
The quasi-state of emergency already declared in parts of the seven prefectures Ibaraki, Tochigi, Gunma, Shizuoka, Kyoto, Hyogo and Fukuoka will be expanded to a prefecture-wide state of emergency from Friday. In addition, 10 prefectures will be newly placed under the quasi-state of emergency, which will also cover the same period.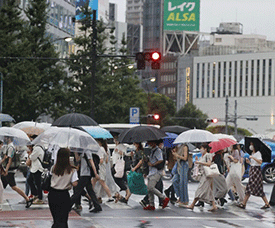 People wearing face masks for protection against the coronavirus walk in the rain in Tokyo's Shinjuku area on August 13, 2021. --Photo Kyodo
Yasutoshi Nishimura, minister in charge of Japan's coronavirus response, said the measures are needed to curb the number of new coronavirus cases as well as "ensure and strengthen medical care in each area."
The move comes with the highly contagious Delta variant of the Novel coronavirus running rampant. The number of COVID-19 patients with serious symptoms hit 1,646 as of Monday, marking a record high for the fifth straight day, the health ministry said. They include people in intensive care units and those on respirators or life support.
Following approval of the plan by a panel of experts, Prime Minister Yoshihide Suga is scheduled to formally announce the decision at a government task force on the coronavirus response after the government reports it to the Diet.
The current state of emergency is the nation's fourth. It has already been extended once before for Tokyo and Okinawa Prefecture to August 31 and was earlier expanded to include Kanagawa, Chiba, Saitama and Osaka prefectures.
Under the state of emergency, restaurants and bars serving alcohol or offering karaoke are asked to shut down during the period, while those not serving liquor are requested to close at 8 pm.
The declaration of a quasi-state of emergency, under which restaurant operators in areas designated by governors are similarly requested to cut opening hours and suspend serving alcohol, is now set to cover 16 prefectures. Establishments taking anti-virus steps may be allowed to serve alcohol until 7 pm in accordance with the governors' decisions if infections in their regions are on a downward trend.
The 10 prefectures to be newly added are Miyagi, Yamanashi, Toyama, Gifu, Mie, Okayama, Hiroshima, Kagawa, Ehime and Kagoshima prefectures. The other six already under the measure are Hokkaido, Fukushima, Ishikawa, Aichi, Shiga and Kumamoto.
A total of 14,854 new COVID-19 cases were reported Monday across the country, up around 2,700 from a week earlier, according to a tally based on local governments' data.

(Latest Update August 18, 2021)