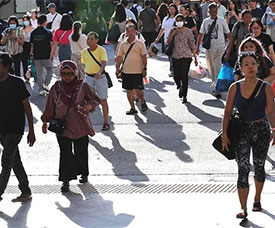 The first case of the new EG.5 Omicron subvariant here was detected on May 5. ST PHOTO
New Covid-19 subvariant accounts for 18 percent of recent community cases: MOH

SINGAPORE (The Straits Times/ANN) -- About 18 per cent of all community cases of Covid-19 detected in recent weeks are of the new EG.5 Omicron subvariant, the Ministry of Health (MOH) said on Tuesday.
It added that the number of Covid-19 cases in hospital or the intensive care unit has remained stable.
The first case was detected on May 5.
"According to the WHO (World Health Organisation), currently available evidence does not suggest that EG.5 has contributed to any significant increase in cases, disease severity, or deaths as compared to other circulating strains," the ministry said.
Nicknamed Eris by netizens, EG.5 has become the dominant Covid-19 strain in the United States, according to the country's Centres for Disease Control and Prevention.
It was first detected overseas in February and has since been reported in at least 51 countries, MOH said, with the WHO designating EG.5 and its subgroup EG.5.1 as a "variant under monitoring" on July 19.
The ministry added that it is monitoring the local situation closely.

(Latest Update August 10, 2023)