Over 200 villages under water as levees break

BANGLADESH (The Daily Star/ANN)  -- Houses, crop fields, and structures in over 200 villages in Barguna, Patuakhali, Khulna, Satkhira and Noakhali have been inundated as embankments breached due to storm surges caused by cyclone Yaas.
Low-lying areas in the coastal zone were inundated as the full-moon tide was above three to six feet higher than normal on Tuesday, said the Met office.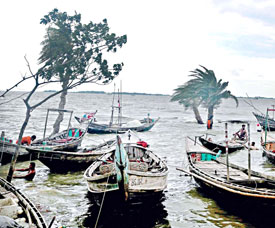 With the severe cyclonic storm Yaas approaching, boats are moored along the bank of the Meghna at Tulatuli point of Bhola on Tuesday. --Photo Collected
Cyclone Yaas, which was around 345km south-southwest of Payra port at 12:30am today, has already turned into a very severe cyclone with wind speeds between 120 kmph and 140 kmph and is likely to hit Odisha and West Bengal coast this noon, said the Met office in a special bulletin.
"The cyclone is moving towards the Indian coast at a speed of eight to 10km per hour," Abdul Mannan, of the Met office's storm warning centre, told The Daily Star on Tuesday.
Low-lying areas of Khulna, Satkhira, Bagerhat, Jhalakathi, Pirojpur, Barguna, Patuakhali, Barishal, Bhola, Noakhali, Laxmipur, Feni, Chandpur and Chattogram will be inundated, the Met office said.
People from these districts will also experience storm winds along with rainfall, the Met office added.
The Met office advised the maritime ports of Bangladesh to hoist cautionary signal number three, which means there will be 40-50kmph wind and anchored boats could get damaged.
The authorities concerned have cancelled operation of water vessels as river remains very rough.
At least 70 villages in Patuakhali and Barguna were inundated yesterday, affecting over 40,000 people.
Local administrations were working to evacuate people.
Till filing of this report yesterday evening, many were taken to cyclone centres and some were on the way to safe shelters. But many others were still in their homes.
In Barguna, over 50 villages were flooded as water of different rivers were flowing above the danger level. Several thousand have been marooned.
"Flood protection dam of our area collapsed, resulting in inundation of many houses in our village. My house has also been damaged," said Shamsul Haque, of East Rupdhon village in Patharghata upazila.
In Patuakhali, at least 21 villages were flooded.
Around 6km embankment of Lalua union in Kalapara upazila and about 10km embankment in Charanda, South Charmontaj and Chalitabunia unions of Rangabali upazila were washed away yesterday morning.
Water level of the Andharmanik river was flowing 23cm above the danger level, said officials concerned.
Rangabali Upazila Nirbahi Officer Mashfaqur Rahman said water was entering localities due to tidal surges. Many people have already been marooned. The local administration is working to evacuate people, he said.
About 40 shops on Kuakata beach have been damaged by strong winds and tidal surges.
In Noakhali, around 5,000 people have been marooned as about 50 villages were flooded in coastal upazila Hatiya.
People of the island upazila were in panic as five to six feet high tidal surges was noticed yesterday. Many fish enclosures were washed away, said locals.
"Even cattle were washed away due to tidal surges," said Kamal Uddin, chairman of Sukhchar union of the upazila.
The local administration is ready to provide all sorts of support to the affected people, said Hatiya UNO Imran Hossain.
Over 50 staffers of forest department's patrolling outposts in eastern Sundarbans, Bawalis (woodcutters) and Mouyals (honey collectors) have been asked to stay in safe places.

(Latest Update May 27, 2021)