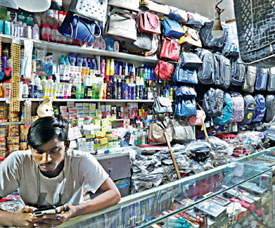 School bag sales have been practically zero amid the ongoing coronavirus pandemic, bringing much hardship to retailers as pictured above. The photo was taken recently at Haji Nur Nabi Market in Dhaka's Badda area.                                           --Photo SK Enamul Huq
Pandemic weighing on schoolbag makers
BANGLADESH (The Daily Star) -- Habibur Rahman, a Chattogram-based schoolbag manufacturer, suddenly fell into deep financial peril ever since the coronavirus pandemic first reached Bangladesh in March 2020.
Rahman once led a solvent life, easily maintaining his family expenses. However, ever since Covid-19 began its march across the country, he has been struggling to survive as his income has been practically zero for the past one-and-a-half years amid the countrywide closure of all educational institutions.
On March 14 last year, the government shuttered all educational institutions in a bid to contain the spread of the deadly pathogen. The closure was repeatedly extended with the latest lasting till August 31, leading to the cancellation of exams and leaving academic calendars in disarray.
"My main product was schoolbags, the demand for which dropped abruptly amid the pandemic," he said. During the first six months of the pandemic, Rahman had to bear the factory rent and salaries of three employees with funds from his savings account.
"However, the situation deteriorated and then I let go of the factory premises, storing my machines at my house. All my savings were used up in the first six months. Now I'm in full deficit," said the backpack maker.
Now, Rahman has been forced to sell vegetables in a bid to make ends meet but he is not alone in his troubles as a number of people who are related to the industry are rowing the same boat.

(Latest Update August 20, 2021)