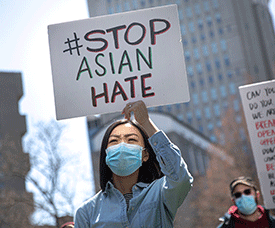 A woman holds a placard as she participates in a Stop Asian Hate rally at Columbus Park in New York.
Pandemic widening the US divide

SAN FRANCISCO (China Daily/ANN) -- While visiting a Pfizer vaccine-manufacturing plant in Michigan in February, US President Joe Biden predicted a return to normal from the pandemic by the end of the year. "God willing, this Christmas will be different than the last," he said.
As the year draws to a close, with COVID-19 booster shots approved and vaccines for children authorised, the US is averaging more than 121,000 new cases and over 1,200 deaths a day, according to Johns Hopkins University.
As the pandemic approaches the end of a second year, it has reached another grim milestone - having killed more than 800,000 people in the US, surpassing the death toll from the 1918 flu pandemic despite medical advances of the past century.
With the Delta and Omicron variants spreading, infection rates are increasing across the country, particularly in parts of the Northeast, Midwest and South. On Dec 16, New York state saw its highest number of new cases in a single day of the entire pandemic, topping just over 21,000.
The emergence of the new Omicron variant has forced the country to tighten international travel restrictions, which the government had lifted a month earlier, adding further uncertainty and exasperation.
The summer surge caused by the Delta variant killed 3,418 people on Sept 16, one of the highest daily totals since the pandemic began. Most of the infected were unvaccinated.
Some people's hesitancy has turned into hostility against inoculation, leading the government's vaccination campaign to hit a wall, missing Biden's goal of delivering at least one shot to 70 percent of US adults by July 4.
As of the middle of this month, 61.5 percent of the population had been fully vaccinated and 72.6 percent had received at least one dose, according to the Mayo Clinic.
Vaccination mandates at federal and local levels have resulted in a string of lawsuits. On Dec 16, a federal appeals court reinstated a Biden administration rule requiring private employers of 100 or more workers to impose companywide immunization. That ruling is expected to be appealed to the Supreme Court.
The move came a day after the administration asked the court to reinstate another mandate that applies to healthcare workers. A federal judge issued a preliminary injunction last month to halt that.
In Illinois, a group of teachers recently filed a class action lawsuit against school COVID-19 requirements for vaccines, face masks and testing. In some cities, police unions are opposing vaccine mandates through lawsuits, although experts said this was aimed at protecting officers and the public. A judge has temporarily blocked New York City's municipal workers' vaccine requirement for a police detective who doesn't want to be inoculated.
Since COVID-19 vaccines were introduced, 14 percent of people in the US said they would never get a shot. They claimed religious or health exemptions, cited mistrust of the government, or opposed "authoritarian controls".
Experts said people's attitudes toward vaccination reflect partisan divides, and the vaccines have widened this split.
At least six conservative broadcasters who questioned COVID-19 vaccines died from the virus this year, according to a National Public Radio, or NPR, report. Their deaths may mirror a wider trend in the US - people who live in parts of the country that support former president Donald Trump are less likely to be vaccinated and more likely to die from COVID-related complications, the report said.
The NPR analysis shows that counties that voted for Trump had almost three times the death rate of those that voted for Biden in last year's presidential election.
More vulnerable
The partisan pattern of COVID-related deaths was not that apparent in the first year, but with the arrival of vaccines, this division is leaving conservative areas more vulnerable to outbreaks and deaths, as these locations tend to have older residents, are less prosperous, and more opposed to mask wearing and vaccines.
Almost 40 percent of Republican adults remain unvaccinated, compared with about 10 percent of Democrat adults, according to the Kaiser Family Foundation's COVID-19 Vaccine Monitor in October.
Anthony Fauci, director of the National Institute of Allergy and Infectious Diseases, said in a recent interview with CBS News, "The degree of hesitancy that we are experiencing now with COVID-19 vaccines has a lot to do with ideological persuasion, which is really, completely, unacceptable." He said he did not have a good solution, apart from "getting vaccine requirements".

(Latest Update December 29, 2021)