Peace role in Middle East sought
MIDDLE EAST (China Daily/ANN) -- Amid efforts to secure peace between Israel and the Palestinians, experts believe China can play a bigger role as a mediator in the Middle East given its noninterventionist stance and expanding engagements with the region.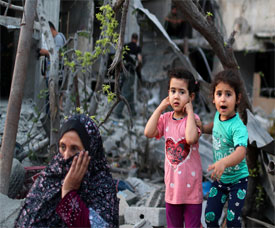 A Palestinian woman sits as two girls stand near houses destroyed during Israeli-Palestinian fighting, in the northern Gaza Strip on June 1, 2021.                              --Photo agencies
Unlike the United States and European powers, China "has no story of intervention in the Middle East in the past decades" and "has maintained cordial relations with Arab and non-Arab nations regardless of their different political systems", according to Henelito Sevilla, Jr, associate professor and West Asia coordinator of the Asian Center at the University of the Philippines.
Although China finished its monthlong presidency of the United Nations Security Council in May, it should assert itself in playing a mediator role in the Middle East conflict, Sevilla said.
Sevilla said the success of the China-proposed Belt and Road Initiative may also depend much on a stable political environment in the Middle East and the Gulf region. For Jawaid Iqbal, a political science professor and chairman of the Department of West Asian and North African Studies at Aligarh Muslim University in India, China's noninterventionist engagements with the diverse governments of Middle East countries like Syria, Iran and the Gulf Arab states show that it "can play an important role as a regional interlocutor".
"The Middle East nations can expect a principled position from China. Unlike the US, China is committed to the multipolarisation of the world order," Iqbal said.
In May, clashes between Israel and Palestinians in the Gaza Strip were among the most intense witnessed since 2014. Egypt later mediated a truce deal.
Days earlier, China, as president of the UN Security Council for that month, demanded a halt to the hostilities and even rallied the Arab League and the Organisation of Islamic Cooperation to play a more active role and strengthen synergies to defuse tensions.
China had said it supports a two-state solution to the conflict. During a visit to the Middle East in March, Chinese State Councilor and Foreign Minister Wang Yi offered to host a dialogue for Palestinian and Israeli leaders in Beijing.
Obligation highlighted
Sevilla said that China, as a permanent member of the Security Council, has a legal, moral and humanitarian obligation "to help the suffering Palestinians in the occupied territories".
"The role of the international community is providing good offices, and mediation is crucial to any future deal or agreement between the Palestinian and the Israeli authorities," Sevilla said. P. R. Kumaraswamy, a professor of contemporary Middle East studies at Jawaharlal Nehru University in India, said that while there is a general consensus for the ceasefire, some countries do not engage with all parties in the conflict.

(Latest Update June 11, 2021)