Pheu Thai announces candidates for five major ministries
(The Nation/ANN) -- Following its announcement on Wednesday that it was getting ready to form a government without Move Forward, Pheu Thai Party has put in place its plan to form a new cabinet with its candidates heading up five major ministries, a news source familiar with the matter told The Nation.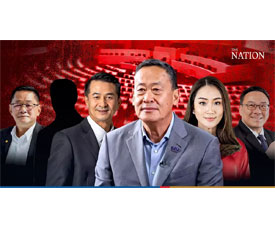 Under the plan, Pheu Thai's prime ministerial candidate and former real-estate tycoon Srettha Thavisin will be Thailand's 30th prime minister.
Pheu Thai leader Chonlanan Srikaew will head the Interior Ministry, while another of the party's PM candidates, Paetongtarn Shinawatra, will become the Foreign Affairs Minister.
The positions of Transport and Energy ministers will be taken by the party's secretary-general Prasert Jantararuangtong and Pheu Thai deputy leader Julapun Amornvivat, respectively.
The source said that for the Finance Ministry, the party will invite an outsider to take the position, whose name starts with the letter "อ". This could be either A, E, I, O, U in English.
The source added that for the rest of the ministries, Pheu Thai will discuss with parties that are joining its coalition, which have yet to be unveiled. Each party will have its own quota of ministers and deputy ministers based on the number of MPs won in the election and on negotiations with Pheu Thai.
The Parliament's joint session to vote for the Prime Minister will take place on Friday.
On Wednesday Pheu Thai also announced that it will not alter Article 112 of the Penal Code or lese majeste law in any way. The law is believed to be the reason why most Senators did not endorse Move Forward's PM candidate Pita Limjaroenrat during the first voting session on July 13, prompting Pheu Thai to drop the Move Forward-led eight party coalition.
Pheu Thai was the second biggest winner in the May 14 election, grabbing 141 seats in Parliament, compared to Move Forward which won 151 seats.

(Latest Update August 4, 2023)