Pressure grows for India lockdown
INDIA (China Daily/ANN) -- With coronavirus infections surging deeper into record territory, Indian Prime Minister Narendra Modi is facing growing pressure to impose a harsh nationwide lockdown amid criticism that restrictions imposed by individual states are not enough.
Many medical experts, opposition leaders and some Supreme Court judges have suggested that a lockdown seems to be the only option with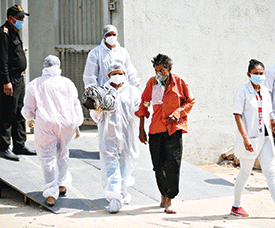 Medical staff help a patient with breathing problems towards an ambulance as he is being shifted to a hospital, amidst the coronavirus disease (COVID-19) pandemic, Ahmedabad, India, April 14, 2021.               --Photo agencies
the virus raging in cities and towns, where hospitals are forced to turn patients away while relatives scramble to find oxygen. Crematoriums and burial grounds are struggling to handle the dead.
On Friday, India recorded a record 414,188 confirmed cases in the latest 24 hour period. Its tally has risen to more than 21.4 million since the pandemic began, with faint hopes of the curve going down quickly. The Health Ministry also reported 3,915 additional deaths, bringing the total to 234,083. Experts believe both figures are an undercount, according to media reports. The official daily death count has stayed above 3,000 for the past 10 days.
Over the past month, nearly a dozen of India's 28 federal states have announced less stringent restrictions than the nationwide lockdown imposed for two months in March last year. Modi, who held consultations with top elected leaders and officials of the worst hit states on Thursday, has so far left the responsibility for fighting the virus to poorly equipped state governments, The Associated Press said.
Randeep Guleria, a government health expert, said a complete, aggressive lockdown is needed in India just like last year, especially in areas where more than 10 percent of those tested have contracted COVID-19.On Friday, Rahul Gandhi, leader of the opposition Congress party, wrote to Modi reiterating his demand for a total lockdown, warning "the human cost will result in many more tragic consequences for our people".
He said the government should not worry about the economic cost of a shutdown and provide financial and food support to the poor.
Anthony Fauci, US President Joe Biden's chief medical adviser, also suggested that a complete shutdown in India may be needed for two to four weeks to help ease the outbreak.
Modi imposed the two month stringent lockdown last year on four hours' notice. It stranded tens of millions of migrant workers who were left jobless and fled to villages with many dying along the way. But experts said the decision had helped contain the virus and bought time for the government.

(Latest Update May 10, 2021)