Princess Mako marries commoner boyfriend after years of controversy

JAPAN (Kyodo) -- Japan's Princess Mako married her commoner boyfriend Kei Komuro on Tuesday, the Imperial Household Agency said, the union coming after years of controversy over a financial dispute involving his mother that led the couple to forgo traditional ceremonies associated with a royal marriage.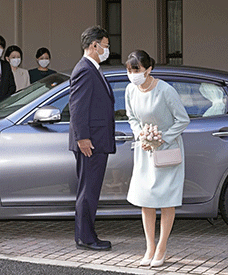 Japanese Princess Mako leaves her family's residence in the Akasaka Estate in Tokyo on October. 26, 2021.   --Photo Kyodo
The agency submitted legal paperwork to register the couple's marriage on their behalf, four years since their relationship was made public.
The newlyweds, both 30, were initially scheduled to hold a press conference at a Tokyo hotel from 2 pm, but they opted to only give opening remarks and to distribute written answers to five selected questions submitted in advance by the media.
The decision was made as the princess, who has been suffering from a mental health condition following a string of media reports about the financial dispute, "feels a strong sense of anxiety" imagining having to answer questions verbally, the agency said in a sudden announcement on Monday night.
Princess Mako, a niece of Emperor Naruhito, became Mako Komuro under a family registry with Komuro.
She has to relinquish her royal status as the Imperial House Law stipulates that a female imperial member must abandon her title if she marries a commoner. The agency will officially register her departure on the record of imperial lineage on Wednesday.
The princess, who left her family's imperial residence Tuesday morning, is set to stay in a Tokyo condominium while preparing to move to New York, where Komuro works at a law firm.
Wearing a light green dress and holding a bouquet of flowers, Princess Mako bowed several times to her parents -- Crown Prince Fumihito and Crown Princess Kiko -- and her younger sister Princess Kako as she left the residence in Tokyo at around 10 am.
The sisters hugged each other before Princess Mako entered a car and left for a Tokyo hotel to face the press with her husband, while her family waved until she was out of sight. Some 10 agency officials were also there to send her off.
Since Japanese imperial family members do not have passports, the princess needs to apply for hers as an ordinary citizen. She is expected to leave for the United States next month at the earliest.
In light of the controversy over the marriage due to the still-unresolved money dispute between Komuro's mother and her former fiance, a series of traditional ceremonies associated with imperial members' weddings were not held.
While female royal family members traditionally receive a lump-sum payment of up to around 150 million yen (US$1.3 million) drawn from the country's tax coffers upon their departure from the imperial household, the agency said it has accepted Princess Mako's request to decline the payment.

(Latest Update October 20, 2021)