Putin, Erdogan believe Covid measures taken by Turkey to improve conditions for tourists

MOSCOW (TASS) -- Russian President Vladimir Putin and his Turkish counterpart Recep Tayyip Erdogan hope that the two countries will be able to revive tourism traffic thanks to the measures Turkey is taking to curb the spread of the coronavirus.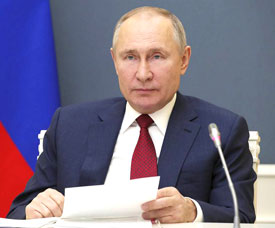 Russian President Vladimir Putin.       --Photo TASS
"In their shared opinion, the anti-epidemic measures will help drastically improve the situation and to resume bilateral ties in the tourism sector," the Kremlin said on Wednesday after the two presidents' talks on the phone.
The Kremlin added that Erdogan thanked Russia for its assistance in that area.
Apart from that, Putin and Erdogan discussed the potential production of Russia's Sputnik V COVID-19 vaccine at Turkish enterprises and the supplies of that vaccine to Turkey.
"They considered in detail the topic of curbing the spread of coronavirus infections, also taking into consideration the epidemiological situation in Turkey," the Kremlin said.
According to the Kremlin, "it was emphasised that Russia stays ready to step up practical cooperation in that direction."
"In particular, it is a question of organising supplies of the Russian Sputnik V vaccine at the soonest possible time, starting already this month," the Kremlin noted adding that "joint production of the vaccine at Turkish enterprises is also being mapped out."
The Turkish Medicines and Medical Devices Agency had earlier granted the emergency use authorisation to use Sputnik V.
The Turkish government ordered the country into the most severe lockdown on April 29 through May 17 after a huge uptick in COVID-19 cases. The country shut down offices and work places, except those listed by the Interior Ministry. Mandatory permits are needed for intercity travel. Public transport is limited to 50 percent capacity.
A surge in infections forced Russia to reduce air travel to Turkey. The number of flights was limited to two per week on a reciprocal basis.
It was reported that Turkish Foreign Minister Mevlut Cavusoglu alongside Culture and Tourism Minister Mehmet Nuri Ersoy were poised to visit Moscow in May for talks on the epidemic situation, so as to address the concerns of Russia and to provide necessary information. Turkey's Ambassador to Russia Mehmet Samsar told TASS earlier that Turkey had plans to vaccinate the workforce employed in the tourism industry by the end of May.


(Latest Update May 7, 2021)