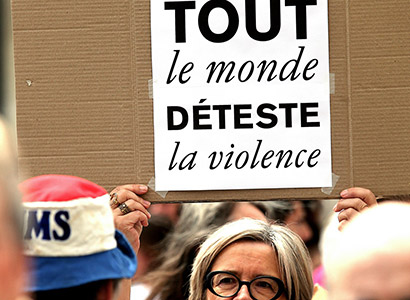 A woman holds up a placard that reads "everyone hates violence" as participants take part in a nationwide action in Reims, northern.
Riots in France 'may spread to more European countries' amid economic downturn

France, (Global Times) – Riots in France showed on local time Sunday signs of easing after five nights of unrest, with more than 3,000 being arrested, while the French leadership faces a massive task in addressing the thorny issue. Meanwhile, analysts also warned that European countries have similar problems in their own territories as they share the same long-standing issues of immigrants and worsening economic situations due to the Ukraine crisis.
To deal with the tense situation, French President Emmanuel Macron was set to meet the leaders of both houses of parliament on Monday. He will meet on Tuesday with the mayors of 220 towns and cities affected by the unrest, media reported, citing Macron's office.
The ebbing violence follows an appeal for calm from the grandmother of Nahel, the 17-year-old killed on June 27 during a police traffic stop in a Paris suburb, which triggered the nationwide unrest. "Stop rioting, stop destroying," the grandmother, named as Nadia, told BFMTV, media reported.
Some Chinese travel agencies reached by the Global Times said they are paying close attention to the situation. CYTS Aoyou Travel Technology Development said in a reply to the Global Times on Monday that none of their tourism routes had been affected by the riots so far, as the routes are mostly organised for urban areas of Paris, while the protests are mostly taking place in the outer suburbs. However, they are closely watching the situation and making the necessary adjustments, the travel agency said.  
The riots have revealed long-standing racial and immigrant problems in France, and European countries enjoying the dividends of migrant labor have not done enough to help the group integrate into society. The riots are the price they are paying for that problem, Cui Heng, a lecturer at the China-Shanghai Cooperation Organisation training base for international judicial exchanges and cooperation, told the Global Times on Monday.
The outcome of racial and immigrant problems appear even more serious as Europe's economy experiences significant downturn amid the Ukraine crisis, Cui said, warning that similar scenes may also occur in other European countries. Some European governments' failure to stimulate the economy, as they continue to fuel the Russia-Ukraine conflict by sending weapons to Ukraine, have also exacerbated the public's anger, which was vented in the ongoing riots, some analysts said.

(Latest Update July 3, 2023)