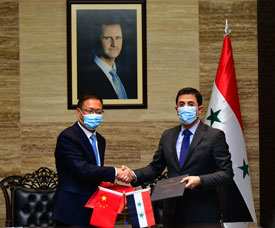 Syria's Health Minister Hasan al-Ghabash and Chinese Ambassador to Syria Feng Biao sign a reception note in Syrian capital Damascus.                                                        –Photo Xinhua
Syria receives new batch of Chinese COVID-19 vaccine
DAMASCUS (China Daily/Xinhua) -- The Syrian Health Ministry on Sunday received new batch of Chinese COVID-19 Sinopharm vaccine, the latest in a string of vaccine batches reaching the war-torn country to overcome the pandemic.
Syria's Health Minister Hasan al-Ghabash and Chinese Ambassador to Syria Feng Biao signed a reception note in Syrian capital Damascus, during which both officials have hailed the friendly relations between both countries.
Ghabash expressed gratitude to China for providing Syria with several batches of COVID-19 vaccines to help the country cope with the pandemic and carry on with the vaccination campaigns.
He said the Chinese vaccine has proven to be effective in preventing COVID-19, adding that the shipment has arrived at a suitable time to enable the country's vaccination campaigns.
"Truly, China hasn't saved any effort to provide medical help as well as vaccines to help the Syrian Health Ministry to carry out its role at these tough times," the minister noted.
For his side, Feng hoped the vaccine aid could help Syria in overcoming the tough times of the pandemic.
"We hope all of this could help Syria to overcome this pandemic as the minister has just pointed out and I am confident that the relationship between both countries will be much more beautiful under the leadership of both presidents," the ambassador said.
China has sent several batches of the COVID-19 vaccines to Syria as well as various types of medical equipment to help the country during the pandemic.

(Latest Update November 19, 2021)