TUCP to DOLE: Probe 'no jab, no pay' scheme

MANILA (Philippine Daily Inquirer/ANN) -- Some employers are unlawfully withholding the salary of their employees until they can prove that they have already been fully vaccinated against COVID-19, a major labor organization claimed on Sunday.
"We strongly condemn as inhuman and illegal the 'no vaccine, no salary' scheme imposed by employers on their unvaccinated employees," said the Trade Union Congress of the Philippines (TUCP).
The TUCP noted that several workers from different establishments have reported that they were not paid their salaries because their supervisors required them to first present their vaccination cards.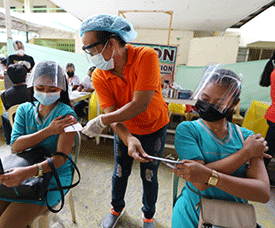 For good measure sales clerks Leslie May Gumarac (right) and Janice Fernando receive their own dose of Sinovac vaccine at Maria Clara High School in Caloocan City in this June 8, 2021. (File photo Nino Jesus Orbeta)
It said the affected workers were afraid to be identified and complain because they might get fired, and instead asked the TUCP to intervene on their behalf.
"The TUCP strongly condemns workplace arm-twisting being done by these employers. This is clearly an act of reprehensible discrimination and harassment imposed on helpless workers," TUCP president and party list Rep. Raymond Mendoza said.
"We warn employers that such a scheme to compel workers to get vaccinated is unlawful," he added.
He said Article 116 of the Labor Code prohibits employers from withholding the wages of their workers "by force, stealth, intimidation, threat, or by any other means whatsoever without the worker's consent."
He also cited Section 12 of Republic Act No. 11525 or the Act Establishing the Covid-19 Vaccination Program, which became law last February.
The provision states that vaccine cards "shall not be considered as an additional mandatory requirement for education, employment and other similar government transaction purposes."
The TUCP said it would provide the Department of Labor and Employment (DOLE) with the names of the establishments that enforce the "no vaccine, no salary" scheme, urging the labor department to immediately conduct inspections to protect the workers' rights.
Mendoza also urged the Dole to issue another labour advisory "clearly outlining the fines and imprisonment imposable on employers for withholding the salaries of unvaccinated employees."
"The labour department must act immediately before this practice spreads and becomes a norm," he warned.
Divided opinion
Business leaders on Sunday said this should not happen because it is currently illegal. However, they had different opinions when asked if the government should eventually allow the private sector to require their employees to be vaccinated.
Sergio Ortiz-Luis Jr., president of the Employers Confederation of the Philippines (Ecop), said companies were not allowed to require their employees to be inoculated.
He added that the policy should not shift to a vaccine mandate, especially when the problem was due to supply constraints, instead of vaccine hesitancy.
"Why are we demonising the unvaccinated? In the case of many of them, it's not their fault. We don't have enough vaccines. Why are we making them suffer for it?" he said in a mix of English and Filipino. He said companies should instead focus on implementing their minimum health protocols.
But other groups do not share the position of Ecop. Earlier this month, 13 business groups and organizations issued a joint statement saying the government should allow them to deny the job application of unvaccinated individuals, among other policies.
Go Negosyo, one of the signatories, said on Sunday that they were still hoping the government would allow a vaccine mandate for labor-intensive businesses sometime in the future.
But for now, its founder and Presidential Adviser for Entrepreneurship Joey Concepcion said these policies were still not legal, although he had not heard of any companies that have implemented them yet.

(Latest Update October 19, 2021)