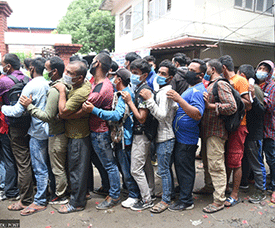 Foreign job aspirants stand in a packed queue for vaccine certificates at Sukraraj Tropical and Infectious Disease Hospital in Teku, Kathmandu on July 22. --Post File Photo
The woes of migrant workers to get vaccines and certification

NEPAL (The Kathmandu Post/ANN) -- After a back-breaking two weeks running from pillar to post in Kathmandu, Yunush Malla finally decided to return to his hometown in Parsa Bazar of Rapti Municipality, Chitwan on Monday afternoon.
His latest trip to the Capital was something he would rather forget.
Malla, 25, was among hundreds of migrant workers who have been flocking to Kathmandu to receive Covid-19 vaccines so that they can fly to their jobs overseas.
After coming across news that migrant workers would be prioritised for Covid-19 vaccination, he reached Kathmandu on July 16. Since then he had been running to different government offices—to get the jab and then to get certified of the fact.
"Since I landed in Kathmandu to get vaccinated, my life was confined to visiting government offices," Malla, told the Post. "It feels like I have seen all about how everything works in this country."
Nepali migrant workers' struggle for vaccination, so that they would be allowed entry to countries they migrate to work, is a microcosm of the ad-hoc decisions of the government that affects the everyday life of its citizens.
Decision after decision, the government has made things rather complicated for migrant workers and put them through bureaucratic hassles.
"What workers have been going through in the last two weeks is nothing short of mentally torturing them," said Swarna Kumar Jha, a migrant rights expert and an activist. "It all showed lack of inter-agency coordination and this is nothing new for Nepal."
All of this started a few weeks back.
After several weeks of suspension of international flights during the second wave of the pandemic from late April, which had also disrupted foreign employment, Nepali workers may have gradually started going abroad once again. But the process has been full of hurdles.
Their plan was affected first with destination countries making vaccination mandatory for outsiders, including Nepali workers, and then limited flights and expensive airfares.
At the beginning, Nepali authorities first did not prioritise outbound migrant workers for vaccination. When they finally decided to administer them with Covid-19 vaccine, following persistent pressure from workers, recruiting agencies and migrant rights activists, they were allotted the Chinese Vero Cell vaccine, which only added more hassles to their migration plans.
As it requires two doses in a gap of four weeks and is not approved by several destination countries in the Persian Gulf, it was deemed impractical for migrant workers.

(Latest Update August 4, 2021)