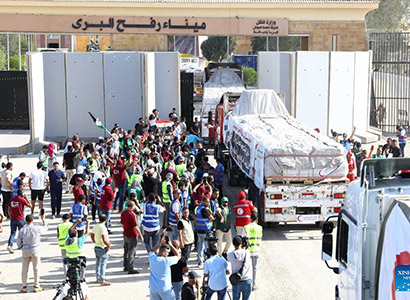 Trucks loaded with humanitarian aid enter Gaza at the Egyptian side of the Rafah border crossing with Gaza on October 21, 2023. --Photo Xinhua
Trucks with humanitarian aid enter Gaza through Rafah border crossing
GAZA/RAFAH, Egypt (Xinhua) -- Twenty trucks loaded with humanitarian aid entered Gaza on Saturday through the Rafah crossing, the only border crossing between the besieged coastal enclave and Egypt, after a two-week blockade.
The trucks were loaded with medical aid donated by Egypt's institutions of the National Alliance for Civil Development Work and the Egyptian Red Crescent, Aya Ahmed, public relations officer of Life Makers Foundation, told Xinhua.
"Such a limited convoy will not be able to change the humanitarian catastrophe that the Gaza Strip is experiencing," said Salama Maarouf, head of the Hamas-run government media office in Gaza, in a statement sent to Xinhua.
It is important to establish a safe corridor that works around the clock to provide humanitarian aid and allow the wounded to receive appropriate medical care that is lacking in Gaza, Maarouf said.
The latest round of Hamas-Israel conflict started on Oct. 7, when Hamas launched a surprise attack on Israeli military targets and towns adjacent to the Gaza Strip, prompting extensive Israeli airstrikes on Gaza.
The bloody confrontation has killed more than 5,000 people on both sides.

(Latest Update October 23, 2023)