Vietnam enters high human development category, puts higher pressure on Earth

HANOI (Vietnam News/ANN) -- Vietnam has joined the ranks of countries with high human development, but this remarkable progress has been accompanied with relatively high pressure on the planet.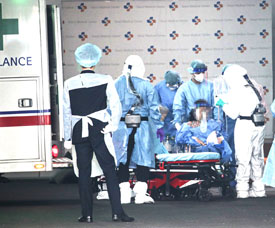 A traffic jam at Kim Ma-Dao Tan intersection in Hanoi on December 15.  --Photo VNS
These are among the key findings of the 2020 Human Development Report: "The next frontier – Human Development and the Anthropocene," released in Vietnam on Wednesday by the United Nations Development Programme (UNDP) in cooperation with the Ministry of Planning and Investment.
The Anthropocene — or The Age of Humans — refers to the new geological age we are living in where for the first time instead of the planet shaping humans, humans are shaping the planet.
According to the report, the COVID-19 pandemic is the latest crisis facing the world, but unless humans release their grip on nature, it won't be the last. Therefore, the report introduces a new experimental index on human progress that takes into account countries' carbon dioxide emissions and material footprint - planetary-pressures adjusted HDI (PHDI).
Việt Nam performs well in terms of forest coverage and response to disasters, but is among the bottom third of countries in terms of carbon emissions per unit of GDP, land degradation (31 per cent of the total land area), and use of fertiliser nutrients per hectare of cropland, it said.
The next frontier for human development will require working with and not against nature, while transforming social norms, values, and government and financial incentives, the report argues. Easing planetary pressures in a way that enables all people to flourish in this new age requires dismantling the gross imbalances of power and opportunity that stand in the way of transformation.
Caitlin Wiesen, UNDP Vietnam Resident Representative, said Viet Nam loses 5.7 percent of its HDI, due to carbon dioxide emissions and material consumption per capita.
"So the idea with this planetary HDI is to raise attention as well, that we need to look at a balance, and we need to read harmonise that this extraordinary human development on the one hand needs to be balanced with the environment," she told Vietnam News.
"Viet Nam's High Human Development is a remarkable achievement and also creates opportunities for greater and more rapid progress in the coming development period.
"The country is at a critical juncture as it designs its next Socio-Economic Development Strategy, with decisions made today determining whether it will continue on it current path of growth and  low inequality, and whether it can simultaneously shift to reducing pressure on the planet to enhance the harmony of the people and the environment," said Wiesen.
Wiesen said Vietnam performed well in terms of gender equality. Vietnam is in the highest among five groups according to the Gender Development Index (with a value of 0.997), and Vietnam ranks 65 out of 162 countries on the Gender Inequality Index. Particularly commendable is the share of seats in parliament held by women (27 percent) which places Vietnam among the top third of countries globally.
However, she said, there is room for improvement.
Vietnam ranks among the bottom third of countries globally in terms of sex ratio at birth (1.12), violence against women by intimate partners (34.4 percent) and women with accounts in financial institutions or with mobile money service provider (30.4 percent).
Regarding the quality of human development, Vietnam is among the top third of countries in terms of lost healthy years as a percentage of expectancy (11.7 percent), and the number of hospital beds (32 beds/100,000 people). All primary school teachers are trained, rural electrification covers 100 percent of the population and the unemployment rate is low.
However, Vietnam is within the bottom third countries globally in terms of vulnerable employment (54.1 percent) because of the large share of the labour force dependent on self-employment in household businesses. But household businesses are not registered. The UNDP is trying to look at a way to support the government, so that these groups can be captured and registration can be made easy when there are catastrophic incidents like COVID-19.
Trần Quốc Phương, Deputy Minister of the Ministry of Planning and Investment, said he was glad to see that Việt Nam's HDI value for 2019 is 0.704, putting the country in the high human development category and positioning it at 117 out of 189 countries and territories.
Notably, Vietnam's loss of income due to inequality is 19.1 percent and its GINI coefficient at 35.7 percent are among the lowest in the East Asia and Pacific region.
"Vietnam is one of the countries most affected by climate change. With the additional use of this indicator, the country will have a basis in promulgating and implementing appropriate policies to promptly respond to the issue of environmental pollution and climate change," he said.
Although the country's emissions were not high, once it joined a group with a high level of human development, Vietnam would also acknowledge its responsibility to reduce pressure on the planet, Phuong said.
(Latest Update Deceember 18, 2020)