What to expect at 3rd Belt and Road Forum for Int'l Cooperation
BEIJING (Xinhua) -- The third Belt and Road Forum for International Cooperation (BRF) will be held in Beijing from Tuesday to Wednesday.
The high-profile forum is the most important diplomatic event hosted by China this year, and the most significant celebration for the 10th anniversary of the Belt and Road Initiative (BRI).
The following is an overview of what to expect from the upcoming forum, which is centreed around the theme of "High-quality Belt and Road Cooperation: Together for Common Development and Prosperity."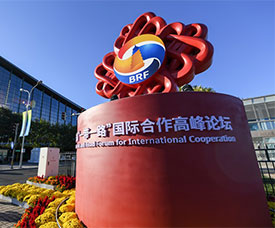 This photo taken on October 14, 2023 shows a floral decoration for the third Belt and Road Forum for International Cooperation (BRF) near China National Convention Centre in Beijing, capital of China.
Charting new blueprint
Chinese President Xi Jinping will attend the opening ceremony of the third BRF, deliver a keynote speech, and hold a welcome banquet and bilateral events for the guests attending the forum.
To date, representatives from over 140 countries and 30-plus international organisations have confirmed their attendance at the third BRF. More than 4,000 delegates have registered for participation.
Xi will work with all participants to draw a new blueprint for high-quality Belt and Road cooperation.
In 2013, Xi unveiled his proposal to jointly build a Silk Road Economic Belt and a 21st Century Maritime Silk Road, dubbed the Belt and Road Initiative.
The BRI was proposed by China, but it belongs to the whole world, Xi said during the first BRF in May 2017.
Since its launch 10 years ago, the BRI has evolved from ideas into actions, from a vision into reality. By June 2023, China had signed more than 200 BRI cooperation agreements with over 150 countries and 30-plus international organisations across five continents, yielding a number of signature projects and small-scale yet impactful projects.
Fruiteul results expected
Apart from the opening ceremony of the third BRF, three high-level forums will be held simultaneously for in-depth discussions on connectivity, green development and the digital economy. Additionally, six thematic forums will be conducted in parallel under the topics of trade connectivity, people-to-people bonds, think tank exchanges, clean silk road, subnational cooperation, and maritime cooperation.
A CEO Conference will also be held during the BRF.
A Chair's Statement will be issued to capture the consensus reached by participants and lay out the future direction and key areas of high-quality Belt and Road cooperation.
A List of Multilateral Cooperation Deliverables and a List of Practical Projects will also be released to present the outcomes reached under the framework of the three high-level forums and six thematic forums.
The third BRF is expected to produce substantial outcomes, both in the forms of cooperation documents, initiatives and mechanisms, and in terms of projects, funds and measures. The total number of deliverables is likely to exceed those of the previous two forums, Chinese Vice Foreign Minister Ma Zhaoxu told Xinhua in an interview.
Wang Wen, executive dean of the Chongyang Institute for Financial Studies at the Renmin University of China, believes that these new gains will continue to support participating nations in overcoming connectivity bottlenecks, eradicating poverty, improving people's lives, and increasing employment.
For better future
Based on the solid results that have been achieved over the past decade, high-quality BRI cooperation will be imbued with greater innovation and vitality, marked by increased openness and inclusivity. It is poised to open new channels of opportunity, prosperity, and happiness for both China and the rest of the world.
The focus of the third BRF on common development and prosperity would greatly enhance international expectations for economic globalisation, said Hu Biliang, executive dean of the Belt and Road School at Beijing Normal University.
In advancing BRI cooperation, China will adhere to the "golden principles" of extensive consultation, joint contribution, and shared benefits, stay committed to open, green and clean cooperation, and aim at high standards, sustainability, and better lives, said Ma.
"Together with our partners, China will advance the high-quality development of the BRI on a larger scale, at a deeper level, and to a higher standard to progress continuously toward the goals of common development and prosperity," he added.
The forum will demonstrate to the world that the BRI will be a long-term, transnational and systematic global project of the 21st century, and demonstrate China's confidence and determination in the comprehensive success of the BRI and the building of a community with a shared future for humanity, said Wang.

(Latest Update October 18, 2023)