DiscoverLaos, J&C Group partner to strengthen business operations

DiscoverLaos and the J&C Group have recently formed a new strategic partnership which will be a great innovation of the two companies through this collaboration.
DiscoverLaos and J&C are leaders in their particular business activities. Both have developed through innovation, and it seems they are always looking for new business solutions and activities.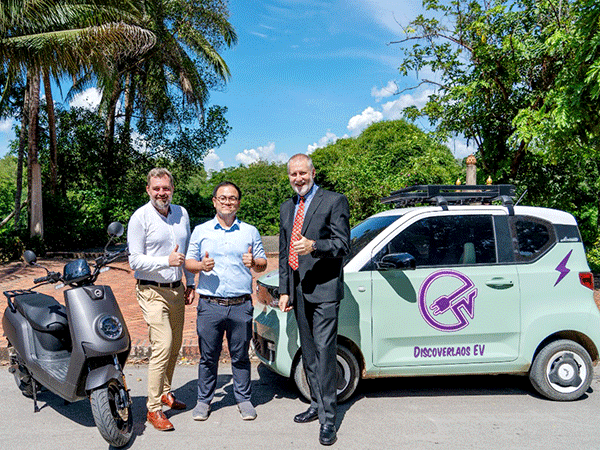 (from left) Partner J&C Group and Director J&C Marketing, Lukasz Nitka, Co-founder & Program Director of Discover Laos Today, Benny Kong, and President J&C Group, Stephan R. Aeschbach.
J&C Services started in 2008 and has expanded to become the J&C Group which now includes J&C Marketing, J&C Insurance Brokers, J&C Real Estate, and J&C Concept Projects.
Starting as a dream in 2006, by 2008 DiscoverLaos had become one of the leading travel businesses in Laos, now with over 300 registered tour operators and hotels as partners.
Their mission aims to enable businesses in Laos to realise their full potential with technology, driving innovation and digitalisation.
DiscoverLaos work in hospitality with their own hotels and tour operations while they also have developed their own electric vehicles for rent and sale, and they have developed their own IT services with their own systems for hospitality businesses and more.
DiscoverLaos is prominent in Luang Prabang elsewhere, while the J&C Group is prominent in Vientiane, and with mutual support they can enhance the strengths of both partner companies, building their reach to customers, adding great customer support and service.
The partners will strategically work together as they share the same attitude, to quality, to innovation, to opportunity.
In this first step, the J&C Group says they will establish a presence in Luang Prabang under the umbrella of DiscoverLaos, while the J&C Group will represent DiscoverLaos, especially in developing the long-term rental of Electric Vehicles (EV) in Vientiane.
As an innovation, based on this new partnership, the public won't need to buy any electric car or electric motorbike, but can just rent one for 6, 12 or 24 months for a fair price.
Or, if customers wish, after this term, they can buy it or extend the rental agreement.
Customers can have more options such as signing a new contract and getting a new vehicle. J&C will help DiscoverLaos extend through developing innovative contracts.
And by partnering with DiscoverLaos in Luang Prabang, J&C will assist many more companies and individuals to access high-end services in marketing, insurance and other services on offer - right alongside DiscoverLaos' well known operations.
Having all the services and products that DiscoverLaos brings to Vientiane in collaboration with the new J&C services and products which will be created, via innovation, quality assurance and finding opportunities, a strategic growth is, for sure, for everyone.
By Times Reporters
(Latest Update September 5, 2022)