President asks Oudomxay authorities to fulfill people's needs

The Party Secretary General and President Thongloun Sisoulith has told the party leadership of Oudomxay province to work harder to fulfill the needs of the local people, local media reported.
The leader gave the advice while touring the northern province during January 21-22.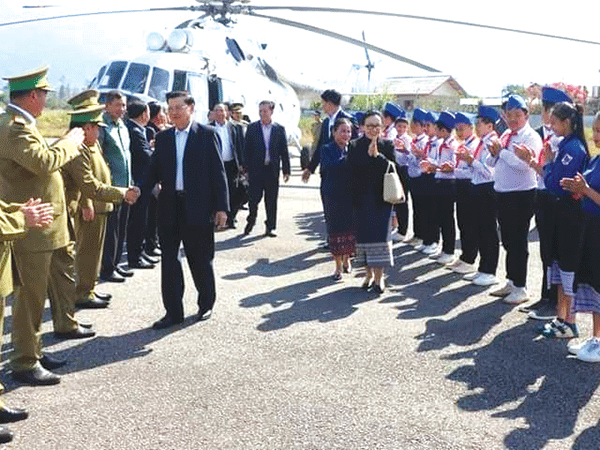 President Thongloun Sisoulith and his delegation were welcomed in Oudomxay. --Photo Miphone
At the talks, the Party chief told the province's party committee to listen to the opinions of officials and local people in order to improve their work plans and leadership methods.
"Keep learning and researching all the time, then discuss and formulate guidelines and policy accordingly," Party Secretary General Thongloun was quoted as saying by Oudomxay's Radio and Television Station.
Once the guidelines and policy are in place, the provincial party committee members should identify their responsibilities to lead the implementation of the plans and achieve their goals for the interests of the people.
President Thongloun called on the senior party leaders of the province to pay greater attention to working with grassroots communities.
He underlined the need for the provincial leadership to enhance coordination with central authorities in a timely fashion, so that various works are implemented quickly.
During the tour, the President and his delegation visited communities affected by floods in 2022, when large stretches of rice field in La district were impacted.
In August last year, dozens of villages were affected by severe flooding and at least two people died after tropical storm Ma-on lashed the province, most of which is mountainous and prone to natural disasters.
Provincial authorities are racing to restore normalcy in the affected areas before the upcoming planting season.
The leader also toured a cold chain warehouse, whose operator has encouraged local farmers to cultivate beans.
Later, the president visited a freight station of the Laos-China Railway in the province's Xay district.
By Times Reporters
(Latest Update January 25, 2023)