Speed control the key to fewer road accidents, Govt official say
Speeding is a major contributor to road deaths and injuries, with pedestrians and motorcyclists particularly at risk, according to a senior government official.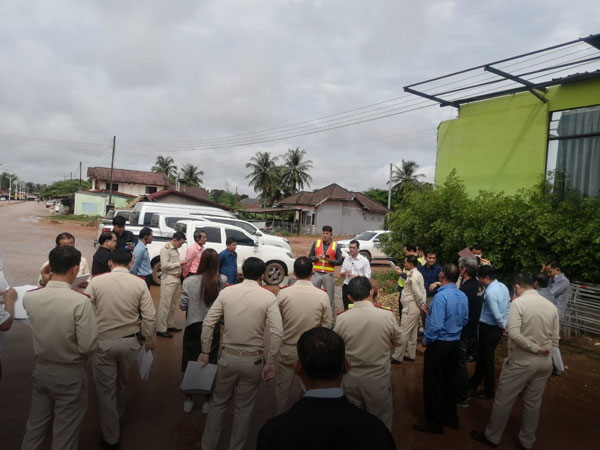 Traffic police learn about methodologies for setting speed limits appropriate to road conditions.
Deputy Director General of the Department of Transport, Ministry of Public Works and Transport, Mr Bounyavath Niraxay, recently stressed the importance of speed control to reduce the number of road traffic accidents and fatalities in Laos as the road network expands.
"Speed is the greatest risk factor for fatalities and serious injuries in most countries, including Laos, where most crashes are the result of speeding," Mr Bounyavath said.
"Speeding is commonly defined as exceeding the speed limit or driving too fast for the road conditions. We must understand the relationship between road trauma and speed to convince political leaders, stakeholders and the public to support an effective speed management programme."
According to the World Bank, about 1,000 people are killed annually on roads in Laos and 10 times as many are injured. This has a devastating impact on victims and their families. It also has a severe impact on the national economy with annual losses estimated in 2017 at over 5 billion kip.
Mr Bounyavath said the Safe System is built on the premise that while humans are vulnerable and make mistakes, in the event of a road traffic crash, the consequences must not lead to death or serious injury.
"The Safe System approach is the key concept of the Lao Road Safety Action Plan and the Lao National Road Safety Strategy to reduce fatalities and serious injuries by 50 percent by 2030," he said.
"Current legislation on speed limits in Laos is based on appropriate speed limits and the default speed limit for the road category. It has become necessary to introduce a new speed limit system which is also in alignment with the Safe System approach and human vulnerability."
The Speed Management Manual assists road designers and transport professionals to set appropriate speed limits for urban and rural roads, taking into account the road type, number and type of road users and vehicles, landscape and land use, known blackspots and other risk factors, according to the World Bank. The tool was well received by participants attending training workshops held recently in Borikhamxay and Vientiane provinces to build capacity in setting appropriate traffic speed limits.
"It is a practical tool that will help define appropriate speed limits and improve road safety in our country," Mr Bounyavath said.
The training workshops provided a comprehensive overview of the new Speed Management Manual prepared by the Department of Transport with technical support and funding from UK Aid through the World Bank's Global Road Safety Facility.
By Times Reporters
(Latest Update September 23, 2022)