Vice President gives development advice to Xekong
Vice President Mrs Pany Yathotou and her officials this week paid a three-day working visit to Xekong province for talks with the provincial Governor Mr Leklay Sivilay, the governors of four districts, and senior provincial officials.
Authorities in Xekong province are working to advance social and economic development, boost agricultural production, promote tourism, and tackle problems relating to drug abuse and currency exchange rates.
Mr Leklay reported on the rollout of the province's socio-economic development plan and budget for 2022.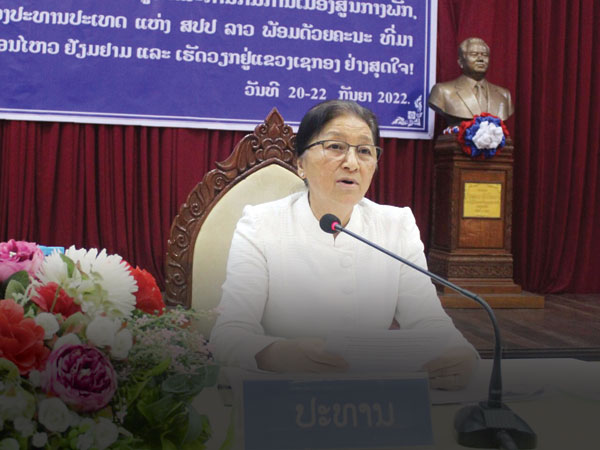 Mrs Pany Yathotou. --Photo Phouthasone
Current areas of concern include the production of more goods for export in order to reduce imports, reining in spiralling currency exchange rates, exercising austerity, management of payment for infrastructure construction, and tackling villagers' everyday hardships. Provincial authorities are focusing on economic and financial problems, especially in relation to revenue collection and budget management, as well as attempting to curb the drug trade, keep the Covid outbreak in check, and ensure that children are vaccinated against Covid.
Mrs Pany gave advice to provincial and district authorities about ways to tackle the problems the province is facing and instructed officials to ensure that everyone in at-risk groups is vaccinated against Covid.
She advised authorities to keep consumer prices under control so that people could afford to buy household necessities, as well as curb currency exchange rates.
Targets around revenue collection and expenditure should be met, Mrs Pany said, and officials should practice austerity, which included restricting the number of vehicles used by government officials.
She called for a special effort to be made by all sectors of government and society to stamp out drug abuse and trafficking, and praised officials for their dedication to duty.
Mrs Pany also advised that productivity levels be raised, especially in agriculture. In addition, she highlighted the need for developments in tourism, the improvement of services, and better management of tourist attractions, saying that management of the service sector should be improved quickly.
She also advised closer coordination between provincial, district and village administrations, so that communication was enhanced and development was speeded up through concerted actions.
By Times Reporters
(Latest Update September 23, 2022)