Households cut spending on education to counter rampant inflation
Skyrocketing inflation has forced many households in Laos to slash spending on education, health and food, according to the findings of the latest survey conducted by the Macroeconomic Research Institute.
Economists are concerned that reduced expenditure on health and education will undermine the long-term development of human capital in Laos.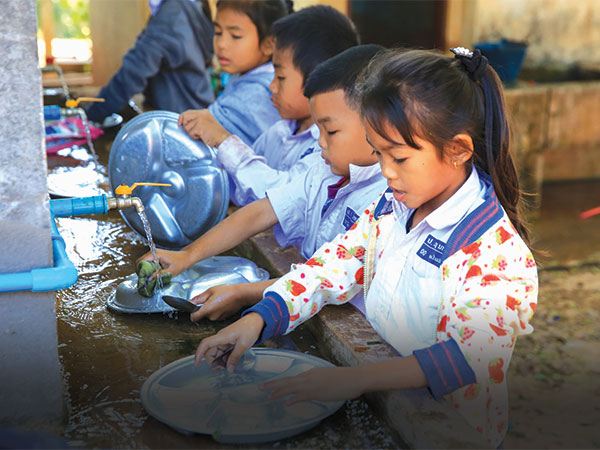 Many households cut spending on education. --Photo by WFP/Vilakhone Sipaseuth
"In the first quarter of 2023, 57.8 percent of households' earnings was spent on basic consumer items, while 26.2 percent and 16 percent were used for investment and savings respectively," stated the Consumer Sentiment and Business Tendency Survey.
"It can be seen that households are lowering their consumption and turning more to savings. This trend may be attributed to households' caution over economic uncertainty and their financial status."
According to a World Bank report issued late last year, two-thirds of households have cut spending on health and education. It is estimated that the household purchasing power of the richest has decreased by 20 percent as a result of inflation.
Economists are concerned that with less money being spent on education, this poses greater challenges for young people from poor families in obtaining higher education and freeing themselves from the poverty cycle.
To deal with rising inflation, many households also decided to cut spending on entertainment and recreation, according to the survey.
The survey was supported by the United Nations under a Joint Programme titled "High frequency data collection, monitoring, and analysis of socio-economic data to support evidence-based policymaking in a volatile time period".
Continuing depreciation of the kip means households have lost income in real terms, with many people saying their earnings have not kept pace with inflation.
The year-on-year inflation rate is continuing to rise, soaring to 41.3 percent in February, up from 40.3 percent in January, according to the latest report from the Lao Statistics Bureau.
The inflation rate in 2022 averaged 22.96 percent year-on-year, according to the Bureau. Income losses and price rises in markets are eroding the purchasing power of households. According to the survey, 59.4 percent of respondents expect that the price of goods and services will rise further in the next 12 months.
Respondents also said they believed rising prices were mainly caused by the ongoing depreciation of the kip (34.6 percent), increasing energy prices (29.2 percent), rising price of raw materials (21.4 percent), and demand pressure (8.9 percent).
A large number of households urged the sectors concerned to enforce price controls and introduce subsidies, stabilise exchange rates, and step up law enforcement. "Households feel pessimistic about the economy and their finances," stated the survey.
By Times Reporters
(Latest Update March 16, 2023)