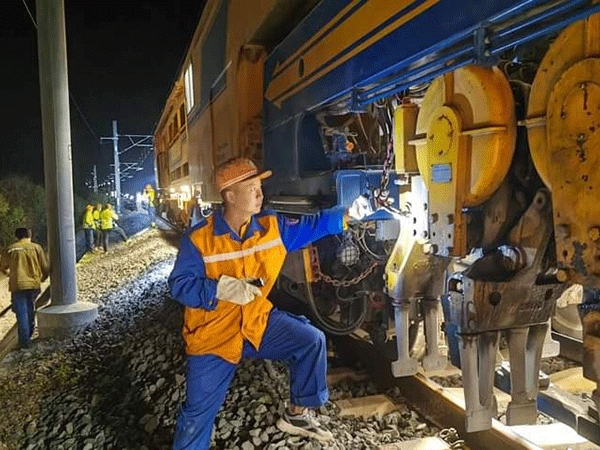 An engineer checks the workings of a train on the Laos-China Railway.
Railway operator completes first major maintenance check

The Laos-China Railway Company has undertaken the first maintenance checks and repairs along a 290-kilometre section of the railway north of Vientiane, completing the operation on March 14.
Starting in November 2022, the Kunming branch of the China Railway Company used four large track maintenance machines and employed more than 300 engineers to carry out repairs and maintenance along the railway, including 179 switch tracks.
The checks will ensure that the railway can operate safely during the upcoming rainy season.
At the same time, the quality of equipment along the railway has been improved, along with the ease of passenger travel and the efficiency of freight transport.
Starting on March 15, passengers travelling on the railway can now buy tickets more easily using the LCR app, which can be downloaded on their mobile phones.
The ticket app has been developed in line with other apps used by the Chinese rail network and offers customers a choice of Lao, Chinese or English languages.
Lao nationals can buy tickets using the app by entering details of their identity card, while foreign nationals can use their passports.
To buy tickets, passengers must enter their name and surname and then check for the availability of tickets on their chosen route. Payment can be made using VISA, UnionPay, WeChat, Alipay or other payment methods, both in Laos and other countries.
By Times Reporters
(Latest Update March 17, 2023)