Bokeo reports second highest number of Covid-19 cases
Bokeo province has recorded the second highest number of Covid-19 infections, which officials say is because many people have ignored the lockdown rules, resulting in the spread of the virus.
Provincial authorities are trying to enforce the lockdown by temporarily closing roads and blocking entry and exit points in districts, especially in Tonpheung district. Travel between villages is also banned.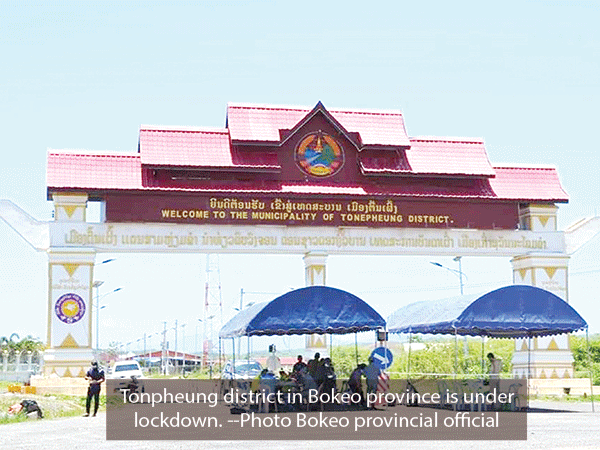 Although provincial authorities are patrolling the streets all day, in Tonpheung district some people are continuing to use roads that the local Covid-19 taskforce has prohibited. In addition, some people are bringing foreigners into Tonpheung, according to the district taskforce.
Provincial authorities have also banned the use of boats and are patrolling the Mekong river to stop people entering Tonpheung district illegally from neighbouring countries including Thailand and Myanmar. Tonpheung district is located in the Golden Triangle Special Economic Zone and shares borders with these countries.
On Sunday, 69 new cases of Covid-19 were reported nationwide, bringing the total to 1,302, while one woman died after contracting the virus.
The highest number of new infections was reported in Bokeo province with 46, followed by Vientiane with 16. Champassak province recorded three cases and Savannakhet province four cases.
As of May 9, Bokeo province had recorded 272 cases of the virus.
In a bid to stop the spread of the virus in Bokeo, provincial authorities have instructed each district to more strictly enforce the lockdown rules and introduce new restrictions if appropriate.
Last month, the province closed road links to other provinces as well as to bordering countries and banned local residents from providing transport into the province for Lao and foreign nationals.
The province has also closed entertainment venues, massage parlours, spas and internet cafés, and banned gatherings of more than 20 people.
By Times Reporters
(Latest Update May 11, 2021)