China assists Laos' response to Covid 19 crisis
China has sent a team of medical experts and medical supplies to help Laos' battle against the Covid 19 crisis following the surge of new cases recorded in the nation over the past few weeks.
Some 25 experts and medical supplies worth 10 million yuan arrived at Wattay International Airport in Vientiane on Tuesday, which were welcomed by senior Lao government officials.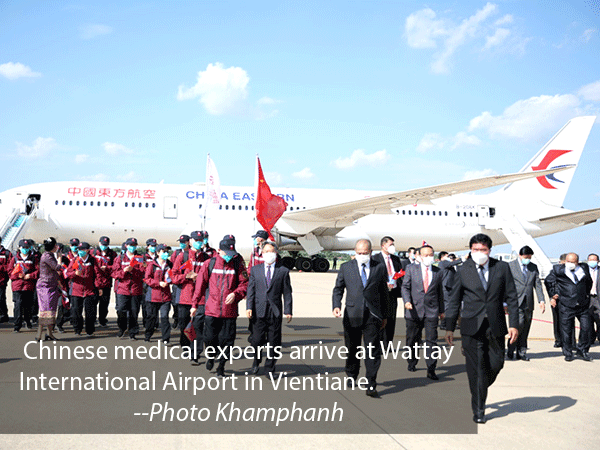 During the welcoming ceremony, Deputy Prime Minister and Chairman of the National Taskforce for Covid-19 Prevention and Control, Prof. Dr Kikeo Khaykhamphithoune thanked China for their timely assistance in Laos containing the spread of the virus.
According to a China Radio International (CRI) report, the medical supplies provided by China on Tuesday including, face masks, medical suits, testing equipment and other essential equipment for treatment purposes.
Chinese experts will work with the Lao side to formulate plans for controlling and treatment of covid 19 patients in response to the community outbreak in Laos.
The assistance made by China over the past years reflects the concerns, attention and caring of the Party, government and people of China towards Laos.
Therefore the government of Laos appreciated the support from China and felt confident that the provision of the Chinese medical experts and supplies would help Laos win the fight against the Covid 19 pandemic, similar to that of 2020 when Laos was able to contain the spread of the virus.
The Deputy Prime Minister expressed his hope that the Chinese experts can fulfill their mission in Laos, contributing to strengthening cooperative relations and advance the comprehensive strategic partnership between the two countries.
China was the first country to donate COVID-19 vaccines to Laos and earlier sent medical experts, along with medical materials, to help in the fight against COVID-19.
Just recently China provided 300,000 doses of Covid-19 vaccine to Laos, which are being administered to Lao people as part of efforts to prevent the spread of the virus.
The vaccines were manufactured by China's Sinopharm (China National Pharmaceutical Group Co., Ltd.) and follow a previous donation of 2,000 doses from the company.
This year marks the 60th anniversary of the establishment of China-Laos diplomatic relations. Laos and China established diplomatic relations on April 25, 1961.
Over the past six decades, the relations, friendship and cooperation between the two countries has become stronger, especially with regard to economics, trade and investment.
Indeed the number of new Covid 19 cases continue to rise in Laos. On Tuesday, sixty new cases were confirmed, bringing the total recorded countrywide to 1,026.
By Somsack Pongkhao
(Latest Update May 5, 2021)